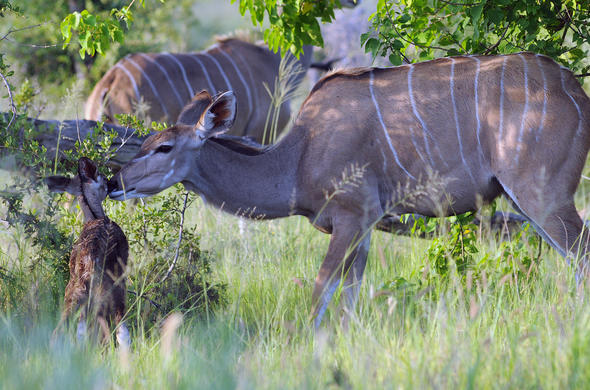 Numbi Gate is one of the loveliest entrances into the Kruger Park because its higher altitude gives you a sweeping vista over the lowveld to the east and the granite foothills to the north and south.Routes from Numbi Gate
The Voortrekker Road (H2-2)
The Napi Road (H1-1) towards Skukuza
The drive around Pretoriuskop (S8, S14)
The Albasini Road northwards towards Phabeni (S3)
The
first guests at Kruger National Park arrived in 1926
through Numbi Gate, after Kruger Park had been open to public for a year. Only 3 cars were recorded in 1927, each one was charged one pound as an entrance fee.In that period Pretoriuskop Restcamp was the only overnight accommodation for tourists in Kruger National Park. After a period of 2 years, once initial road network had been established, a few more camps were built, which made it possible to travel as far as the Olifants River, and 850 cars entered Kruger Park.Despite this being a very small amount if you compare it to the current annual visitor figures of over
one million people
, the authorities were surprised by the Kruger Park's popularity.
The Park's first warden, Stevenson-Hamilton, remembers there was insufficient guest accommodation to
cater for the demand
, and that safari rangers had to give up their own quarters to tourists and sleep outside on many occasions.Numbi Gate is one of the loveliest entrances to the Kruger Park because its higher altitude gives one
a sweeping vista over the lowveld
to the east and the granite foothills to the north and south. Like Malelane Gate, the Numbi area enjoys some of the highest rainfall in Kruger Park and, therefore, has
a high diversity
of plant and animal species.Sable herds in Kruger Park are usually small, averaging between 2 and 4 animals, but
herds of up to 10
are found in the area between Pretoriuskop and Malelane; led by dominant bulls.
The underlying
geology of Pretoriuskop
sourveld, like most of the south-western part of the Park, is granite with some gneiss. The higher altitudes almost all bare granite outcrops and, where there is soil, it is coarse, reddish and relatively infertile.However, the vegetation, which is
defined as Pretoriuskop sourveld
, is thick and game spotting is not easy. This is compounded by the fact that the dominant grass (themeda triandra), (used for thatching most of the camp roofs) is not very appealing to grazers.
The terrain is more favourable to selective
browsers such as Kudu
, one of the first animals you are likely to see after arriving at Numbi. Other animals that enjoy the sourveld grass are white Rhino and Sable Antelope.The soil on the mid and lower slopes is
clay-like and rich in nutrients
; the more dominant trees here are Kiaat, Silver Cluster-leaf and a variety of Acacias. Tambotis and Sycamore Fig trees are common along the drainage lines.