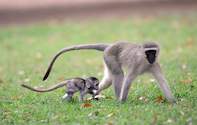 © Graham Cooke
Vervet Monkey and Infant.
Matjulu in Shangaan is a colloquial description for the place of the Zulus, and got its name during the Swazi occupation of the lowveld in the 19th century (siSwati and isiZulu share the same linguistic roots).About the South West
At Malelane Gate
Malelane Skukuza via Afsaal
Malelane Skukuza via Biyamiti
Malelane to Berg-en-Dal
Malelane to Crocodile Bridge
Matjulu Loop
Numbi Gate
Numbi Gate to Skukuza
Pretoriuskop Area
Pretoriuskop to Malelane
See
map of South West Kruger Park
Animals and Birds to See Near Matjulu Loop

Animals
White rhino
Mountain reedbuck
Wild dog
Klipspringer
Buffalo

Birds
African hawk-eagle
Scarlet-chested sunbird
Pied kingfisher
White-browed robin-chat
Mocking cliff-chat
The S110 from Berg-en-Dal Rest Camp is a dusty loop road through the upper catchment area of the Matjulu watercourse.
The key to enjoying the south-western mountain terrain is not to look for game so much as to experience the landscape, which is infinitely more layered and complex than the rest of the lowveld. Classified as Malelane mountain bushveld, the foundation of this particular ecosystem is granite and gneiss.
Because granite does not easily weather, there are lots of rocky outcrops with shallow, stony soil on the upper slopes and relatively fertile clay soils in the valleys and drainage lines. These conditions favour trees rather than grasses, and, because granite is not a very mineral-rich base, what grass cover there is does not have the same nutritional value as that found on basalt.
From a game-viewing perspective, one is more likely to see browsers like kudu, giraffe, impala or duiker along the Matjulu Loop than grazers such as zebra, buffalo and wildebeest. The thick vegetation also makes game viewing difficult, and, if one's expectations for seeing animals are low, one may be pleasantly surprised.
Along this road (S110), beneath Matjulu Hill (627m) is a water hole where white rhino often drink, while kudu and giraffe are sometimes seen. Wild dogs are sometimes seen around Matjulu Water Hole which is a kilometre off the Matjulu Loop.
Hyaena are rarer and occur more towards Afsaal and Pretoriuskop Camp. This is not ideal lion habitat although they are in the area.
There are many leopard lairs in the koppies on the Matjulu Loop although these elusive hunters are not often seen. There have been only a handful of human fatalities caused by leopards in Kruger. One incident occurred close to Matjulu Water Hole in 1998.
An old, emaciated female leopard brazenly attacked and killed junior ranger Charles Aldridge Swart who had got out of his vehicle on the Matsulwane Bridge during a night drive. Leopards are usually shy of humans but this creature had been driven crazy by hunger and broke the bounds of normal leopard behaviour.

Former head ranger Bruce Bryden described what happened: "While the tourists were stretching their legs, Charles strode to the southern end of the bridge and perched on the railing with the rifle in his lap. He was still sitting there listening to the night sounds and pulling at his cigarette when the leopard crept up behind him and crushed his neck, killing him instantly."
When news of his death reached Berg-en-Dal, Cpl Albert Makuleke followed the leopard spoor in the dark, caught up with it and shot it dead with his R1 service rifle. It was found to have had severe bovine tuberculosis. A devastated Bryden remarked afterwards: "It could have happened to any of the guides; it just happened to be Charles who was unfortunate enough to be the one in the wrong place at the wrong time."
The Steilberg Road (S120) connects Matjulu Loop with the Malelane Skukuza road (H3). It winds through the broken landscape of the Malelane mountain bushveld before descending into the mixed bushwillow woodlands of the Mhlambane catchment area. The road has some inspiring and unusual Kruger landscapes, but is not noted for good animal sightings.
Nombolo Mdluli Nombolo Mdluli is one of the ranger legends of Kruger. He was an oral custodian of the Park's history during his 52-year career in the bush. He began working as an assistant ranger in 1919 at an outpost called Rolle 55km north of Skukuza.
In 1921 he was posted to Malelane to work with the inexperienced new ranger SH Trollope. Mdluli accompanied Trollope on his first hunt during which they came across four lion. Trollope shot three of them and wounded a lioness. Then, ignoring Mdluli's impassioned advice that this was madness, Trollope pursued the injured animal into thick bush. The lioness ambushed Trollope and grabbed him by the thigh. Mdluli shot it dead.
Several years later, Mdluli had another near-death experience with a lion. Based then at Shingwedzi, he was attacked by a lion that had earlier killed a young boy in a corn field. As the lion charged Mdluli, he stood his ground and shot it dead with a. 303. It may seem incredible today that his reward was a Singer sewing machine and a hat made out of the lion's skin, five pounds and permission to kill any other troublesome lion. Mdluli donated his rifle to the Skukuza Museum, where it is on display.
Before his retirement in 1971, Mdluli helped Park staff relocate Rolle, which had been abandoned in the early years of the Park.