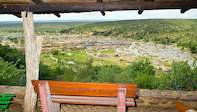 Olifants Camp is a spectacular rest camp situated on a prominent 100 metre-high ridge overlooking the Olifants River in Kruger Park - South Africa.
Positioned on a rocky promontory in Kruger Park, South Africa, Olifants Camp towers above the Olifants River, near the river's confluence with the Letaba. Enter through the Phalaborwa Gate (5 hours drive from Johannesburg) or travel by air with regular domestic flights from Johannesburg to Phalaborwa Kruger Park Gateway Airport.
Flora found in this region include Apple Leaf, Tamboti, Baobab, Leadwood, Shrub Mopane, Mixed Bushwillow, Silver Cluster Leaf, Mopane and Mixed Acacias, Round Leaved Teak, Mixed Bushwillow, Transvaal Candelabra Tree, Marula, Wilddate Palm, Weeping Boer Bean, Buffalothorn, Sycamore Fig, Reeds, Jackalberry, Knob Thorn, Fever-Tree, Thorny Cluster Leaf and White Seringa.
Directions to the Phalaborwa Gate From Johannesburg / Gauteng
Follow the N4 out to Nelspruit. From there take the R40, north to Hazyview, Bushbuck Ridge and heading on to Klaserie and then onward to Hoedspruit: Follow the R40 on to Mica, being sure to follow the road as it splits to the right to the Phalaborwa Gate.
At Phalaborwa Gate, carry on the H-9 road for 51 kilometres (31 miles) until you reach your first T-junction. On the T-junction turn right travelling on the H-1-5 road for 24 kilometres (15 miles). When you reach the Nwamanzi Viewpoint, stick to your left on the H8 road for 9 kilometres (6 miles) until you reach Olifants Camp in Kruger Park, South Africa.
Game viewing routes around Olifants Rest Camp.
GPS Co-Ordinates
-24.005650 S 31.740220 E