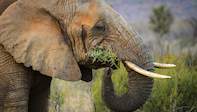 © Roger de la Harpe
Included with game drives and bush walks, mountain bike trails offer a new and interesting way to experience the veld.
Game viewing and sightseeing is possible from Olifants Camp where a shaded lookout platform is positioned for a guest's Kruger Park safari. Here you are sure to spot Hippopotamus, Crocodiles in the Olifants River as well as even the occasional Lion kill.
Kruger Park attractions include guided game walks around the Olifants River, which are the perfect way to learn more about the bush from close up. But the most exhilarating part of your holiday will be a trip out on a mountain bike trail ride.
Morning or evening bush braais (barbecues) can be enjoyed as you soak up the Kruger Park nightlife and warmth of a campfire while listening to the flickering night sounds on this Kruger Park safari and suggested itinerary.
Some of the wildlife found on a Kruger Park safari include: Lion, hyena, elephant, leopard, duiker, waterbuck, baboon, impala, kudu, wildebeest, zebra, giraffe and ostrich.
5 animals to seek
Elephant
Lion
Hippopotamus
Nile Crocodile
Martial Eagle
Olifants is situated in the rugged veld on rhyolite/basalt soil. Lowveld cluster-leaf, Raisin Bush and Mopane are all prominent in the area. Just south of the river is the transition zone between thornveld and the mopane belt. Visitors can thus have the enriching experience of game viewing in both ecozones, on this Kruger Park safari.
In the camp itself there is a plethora of trees and plants, some that are scarce elsewhere in the park. A variety of aloe species are a real highlight and attraction on this Kruger Park safari. Next to the filling station, there is a Sesame Bush. This is probably the only accessible place in the park where it can be seen.
In early spring the Sjambok Pod (yellow flowers) and Weeping Boerboon (red flowers) are both in bloom so the veld is a contrast of colour. Also look out for tree euphorbia, on your Kruger Park safari and suggested itinerary.