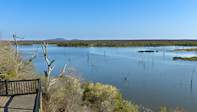 Mopani Camp is situated on a rocky rise in the Kruger National Park in South Africa, with a magnificent view over the Pioneer Dam. The nearest entrance is Phalaborwa Gate, which is 74km (46 miles) away. The Airport is 4km (2.5 miles) from Phalaborwa Gate.
This flat area of the Kruger National Park in South Africa is rich with plant species like the Mopane shrub, Red Bushwillow trees and sweet grass. Flora found in this region include: Apple Leaf, Tamboti, Baobab, Leadwood, Shrub Mopane.
Mopani Camp is situated 47 kilometres (29 miles) from Letaba Rest Camp and 65km (40.3 miles) from Shingwedzi Rest Camp. The nearest gate is the Phalaborwa Gate which is 74 kilometres (46 miles) away. Car hire facilities are available at the airport.
There are regular domestic flights to and from the Phalaborwa Kruger Park Gateway Airport which lies just 4 kilometres (2.5 miles) from the Phalaborwa entrance gate.
Travel routes and times from Johannesburg/Pretoria:
Phalaborwa Gate Take the N1 toll-road to Polokwane (Pietersburg). Forty kilometres (24 miles) before Polokwane turn right onto the R71 and head for Tzaneen. After Tzaneen head towards Phalaborwa and the gate. Allow between 6 to 7 hours for the trip to the gate.
Mopani Main Rest Camp is 74 kilometres (45 miles) away from the gate. Allow about 3 hours for the drive to the camp, however, if you want to enjoy the game viewing possibilities, give yourself more time.
Read more about game viewing routes around Mopani Camp
Climate
Kruger National Park in South Africa is in a summer rainfall area. Such precipitation is usually convectional and can result in heavy downpours. The summer months (October to April) are hot and often balmy. Winters are warm and mild, although visitors going on night drives will require warm clothing.
Vegetation
Mopani is situated at the transition zone between granite /gneiss soils to the west and basalt soils to the east. The former hosts a combination of mixed bush willow, silver cluster-leaf and tree and shrub mopane, while the latter combines apple-leaf with shrub mopane. Large knob-thorn, tamboti and leadwood are found along the drainage lines.