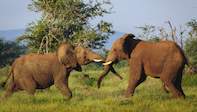 © Roger de la Harpe
An in-camp trail offers many opportunities to spot the prolific and beautiful birdlife on your Kruger National Park vacation. Mopani Rest Camp activities include morning and afternoon walks, as well as dawn, sunset and night game drives.
Night game drives enable you to take part in the nightlife activities of Kruger's secretive creatures in the company of experienced guides and trackers. Guided bush walks, in the company of trained field guides with backup rifles, take groups of up to 8 people out into the bush for a few hours. Track rhino, elephant and lion on foot and learn and observe fascinating facts about the African bush.
By relaxing at the lookout point or on the terrace of Mopani Camp's safari room you can enjoy game viewing without even having to leave the camp, during the course of your Kruger National Park vacation. The safari room also boasts a ladies bar, television and fireplace. Enjoy a short walk to the Pioneer Dam. Mopani Rest Camp boasts a swimming pool, for the use of resident visitors as well as a walking trail.
Visitors to Mopani Camp have the unique opportunity of taking one of the Kruger Park guided tours and day trips to the Shilowa heritage sites, right on the Tropic of Capricorn along the Park's eastern boundary.
Please Note If you must walk around at night please do not do so without a torch.
Wildlife
The dense mopane veld around Mopani Rest Camp has an unfair reputation for being a poor game area. In truth, there is actually very little that cannot be seen in this habitat.
In fact, a person can simply sit at the lookout point in camp, or at the nearby balcony of the ladies bar, and be treated to a constant stream of animals such as hippo, waterbuck, impala, warthog, elephant, buffalo and even lion.
The Tropic of Capricorn loop and the Nshawu pans are an excellent area to see African wildlife as there are some open plains that host species such as Blue wildebeest, Burchell's zebra, buffalo and the rarer Tsessebe. Black-backed jackal and caracal are some of the smaller more unusual species to look out for on your Kruger National Park vacation.
Birding Attractions in Kruger Park
The camp overlooks the Pioneer Dam where a plethora of water birds are to be seen. Storks, egrets, kingfishers and African Fish Eagles are ever-present while red-winged Pratincole, African Spoonbill, Blackwinged Stilt and white-winged Tern are some of the more uncommon species to watch for.
Mosque and Wire-tailed Swallow breed in camp (the former should be looked for at the camp's huge Baobab Tree). Mocking Chats should be looked for from the ladies bar on a Kruger National Park vacation. At the nearby Nshawu Pans look for Kittlitz's Plover, Chestnutbacked Finchlark and red-winged Pratincole.
5 Things To Seek
Hippopotamus
Waterbuck
Tsessebe
African Fish Eagle
Mopani Trees
The activities can only be booked in conjunction with confirmed accommodation bookings.