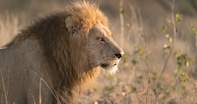 The applicants argued that the regulations would have a particularly great impact on the captive bred lion industry.
Canned hunting is the act of hunting for animals that have been bred in captivity or who are kept in fenced areas, unable to fairly escape the hunter. Trophy hunting on game ranches is a highly controversial topic with one end of the spectrum arguing that it is animal cruelty and the other end emphasizing the large funds received, that goes towards conservation.
The game-ranching industry plays a significant role in the conservation of endangered species and species on the decline.

Game-ranching is the industry relating to private ownership of wildlife, with certain species being hunted for large sums of money, which is then used to conserve the animals that are no longer found in abundance. By reestablishing natural habitats, wildlife populations can be boosted.
Various hunting safaris are planned by companies focusing on regulating the industry. Although captive lion hunting is still permitted, various by-laws restrict the practice thereof.
South Africa's Bloemfontein High Court dismissed the application for appeal against a court judgement that captive bred lions must be free roaming on a large area and self-sufficent for two years before they can be hunted. Judge Van der Merwe and Judge Rampai dismissed, with cost, the application made by the South African Predator Breeders Association, Matthys Christiaan Mostert and Deon Cilliers.
The original application was launched on May 4, 2007 taking the Environment Minister to court over certain aspects of the Threatened or Protected Species (TOPS) regulations which came into effect on February 1, 2008. Amongst others, the applicants challenged the inclusion of lion as a listed large predator and the 24 month period in which captive bred lions had to fend for themselves in an extensive wildlife system before they could be hunted.
The applicants argued that the regulations would have a particularly great impact on the captive bred lion industry in the Free State and North West provinces with adverse impacts on the operations of the second and third applicants.
The applicants may still petition the Chief Justice for Leave to Appeal.The department of environmental affairs indicated it will now focus on achieving its original intention of listing lions as a large predator subject to TOPS regulations.