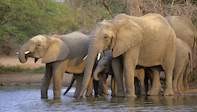 © Nigel Dennis
Four elephants in Greater Kruger got a bit of a surprise on October 19 when wildlife vet Cobus Raath and a team of international volunteers swooped down on them to fit them with GPS tracking collars.
A fifth bull got his collar removed. The tracking collars locate the elephants using global positioning satellites and then send the elephants' positions via a simple cell phone to a website where the coordinates can be downloaded.Three of the elephants collared are part of a long-term project being run by Michelle and Steve Henley to determine the movements of elephants in the Klaserie, Timbavati and Umbabat Private Nature Reserves as well as their utilisation of the Kruger National Park (KNP).

Their study also looks at the interactions between individual animals, identified using identikits that Michelle has compiled over the years. One of the elephants that Michelle has been tracking for the last year, known as Benjy, had twisted his collar around until the GPS unit was upside down, flattening the batteries.

The collar was loosely fitted last November to allow the young bull growing space. Benjy spends most of his time on the grounds of Palabora Mining Company (PMC), where Michelle could not easily keep tabs on his social interactions, so the decision was taken not to replace the collar.

With the aid of Tim Paxton, PMC's security service superintendent, Cobus Raath removed Benjy's collar in record time to prevent any distress to the elephant, which frequently spends time close to the PMC buildings and cars.

With the addition of two bulls and a cow to her stable of collared elephants, and the removal of Benjy's collar, Michelle now has 10 elephants under digital surveillance, with their GPS locations being downloaded onto her computer regularly.
This allows her to draw up precise maps of their locations. She can determine if the animals move in specific directions at different times of the year. By watching the animals on the ground she can see if the movement is caused by bulls being in musth, other social interactions, or the need for food or water.The other elephant collared was the first animal to take part in the ambitious Tembo (The Elephant Movements and Bio-Economic Optimality Programme) project, as part of Yolanda Pretorius' PhD study.
Tembo is an international collaborative effort that will try and understand how the nutrient content of plants affects the way herbivores, especially elephants, choose their next meal.
This will lead into management plans for reserves with elephants. After the elephant collaring, the veterinary team and the volunteers went on to microchip several rhinos and lions in the Timbavati Private Nature Reserve for security purposes. Several high profile wildlife scientists were involved in the exercise, known as the "One World Quest".
By Melissa Wray