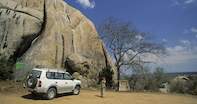 © Nigel Dennis
Stevenson Hamilton memorial in Kruger National Park.
As the Kruger National Park is revered for its rich diversity of wildlife and continued conservation efforts, guests are encouraged to not only enjoy the natural scenery but to also visit the Kruger National Park Historical Landmarks.
History enthusiasts are spoilt for choice with a number of monuments, memorials, gravesites, and objects of importance on display throughout the park that dates back to the 19th century.
Unlock the secrets of Kruger National Park by stepping into its past and viewing one-of-a-kind, distinctive landmarks that made the renowned park what it is today. Many of the spots are located close to the park's accommodation facilities, so whether guests are staying over or embarking on a day trip, Kruger Park's fascinating history is but a short distance away,