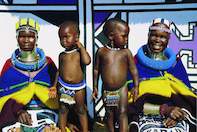 African culture guide - Southern Africa is a land of old tales, vibrant history and mystery. Kruger Park visitors can learn about local people and tribes who made their home in South Africa.
Find out more about the art, traditions and daily life of the Ndebele, Pedi, Xhosa, Tsonga, Venda, Xhosa and Zulu people of South Africa.

The Tsonga are a diverse people, generally including the Shangaan, Thonga, Tonga, and several smaller ethnic groups. Together they numbered about 1.5 million people in South Africa in the mid-1990s.

Learn more about the Xhosa people of South Africa and their history, culture, courtship and marriage, customs as well as their belief system.

Zulu people refer to themselves as 'the people of the heavens' and they are the largest ethnic group of South Africa. Learn all about their traditional clothing, food, dances and religion.