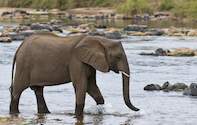 © Roger de la Harpe
Elephant walking along Olifants River in Kruger Park.
Lying on the north eastern border of South Africa, and stretching for more than 350 km from north to south, the Kruger National Park is a vast area and rivers of permanent water to sustain the wildlife are essential.
Six major rivers, and many tributaries, stretch across the wilderness of this incredible park, with the Crocodile River forming the southern boundary and the Limpopo the northern boundary. The other major rivers in Kruger are the Olifants, Sabie, Letaba and Luvuvhu.
Crocodile River

The Crocodile River flows along the southern boundary of Kruger, and provides for some spectacular wildlife sightings.
However along much of the boundary with Kruger the southern side of the river is dominated by agriculture which can influence the aesthetics of the wilderness experience somewhat.
The Crocodile River is a tributary of the Komati which flows into the Indian Ocean at Maputo Bay in Mozambique.
Sabie River

The Sabie River, or Sand River, rises in the Drakensberg Mountains and flows through the province of Mpumalanga before reaching the private reserves of the Sabi Sand Wildtuin where the river provides some spectacular sightings of wildlife.
It then flows on through the Kruger Park, past the Skukuza and Lowie Sabie rest camps, providing some of the Kruger Parks best game viewing. As with the Crocodile River, the Sabie joins the Komati River en route to the Indian Ocean.
Letaba and Olifants Rivers

Flowing through the central regions of Kruger the Olifants and Letaba Rivers have become well known for reasons other than the wildlife that is attracted to the life-giving waters. They are considered some of the most polluted in the country due their course through, industrial areas, villages and settlements.
The harm the pollution has caused the wildlife of Kruger has not been fully established yet but there are signs of environmental degredation.
Bandits and Rogues of Crooks Corner

The Northern-most part of Kruger is scenically the most spectacular in all of Kruger, and made even more so by the Luvuvhu and Limpopo Rivers that traverse the area. The Luvuvhu is a tributary of the famous Limpopo and where the two rivers meet is known as Crooks Corner, for it is here where authorities struggled to control the miscreants of the post-colonial days.
When the Portuguese authorizes were in pursuit of a suspect the suspect would simply cross the river into South Africa and so it was if the South African authorities were chasing a suspect - the suspect would simply cross into Mozambique.
Crooks Corner was a thriving hub of illegal activities and the area is to this day known for its past.
Threats to the Rivers of Kruger Park

Some of the rivers that flow through the park weave their way through over-populated villages and settlements before reaching the park itself, and this has led to high levels of pollution of the water, and suspected diseases in animals.
Learn more about Which River In Kruger Is The Cleanest