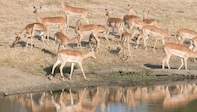 Animals to be seen at Maroela Camp on a Kruger National Park safari include Giraffe, Zebra, Elephant, Wildebeest, Buffalo, Cheetah, Lion and Hyena.
Night drives enable you to take part in the nocturnal activities of Kruger's secretive creatures, in the company of experienced guides and trackers.
Exciting bush walks conducted by trained field guides with backup rifles, take groups of up to 8 people out on their Kruger National Park safari, into the bush for a few hours. Track Rhino, Elephant and Lion on foot and observe the fascinating African bush.
Some of the wildlife found in this region on a Kruger National Park safari: Lion, Jackal, Hyena, Kudu, Giraffe, Cheetah, Buffalo, Impala, Bushbuck, Zebra, Wildebeest, Sable, Leopard, Baboon, Hippopotamus, Crocodiles, Warthog and Rhino.
These activities can only be booked in conjunction with confirmed accommodation bookings.