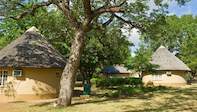 As one of the smallest camps in the Kruger National Park, Malelane Camp is an ideal African escape and offers guests privacy and seclusion.
Accommodation for maximum of 19 people
No day visitors are allowed
Several caravan and camping sites are available 
Guided bushwalks are available
Malelane Camp is one of several caravan / camping sites in the Kruger National Park, each of which offers a different variety of activities and attractions while you are camping in Kruger National Park.
The facilities, while excellent, are generally of a similar type. There is a a maximum of 6 persons, per site. ie: one caravan with a side tent and one vehicle, or one tent and one vehicle, or one autovilla, or one motorized caravan is permitted per site for camping in Kruger National Park.
Malelane Camp accommodates a maximum of 19 persons. No day visitors are allowed, therefore resident guests can enjoy the privacy and intimacy offered by this camp. Witness the spectacular beauty of the rising morning sun illuminating the sky during morning drives, and the seemingly sudden awakening of the bush with the shrill burst of bird song and the canter of animals to waterholes.
Night drives commence during the twilight hours of the day, before the park is steeped into total darkness. Armed with spotlights, the transportation guides identify elements in the environment and seek to find the nocturnal animals. The open vehicles normally stop at a waterhole to allow you to stretch your legs and to enjoy sundowners and snacks.
In order to enjoy the game drive experience, guests are advised to wear a weatherproof jacket and a cap. Binoculars and cameras are a must for camping in Kruger National Park. Game walks allow you to experience the wilderness at close quarters.
Whilst on walks, you can witness the cocking of Rhino's ears and their pawing of the ground on smelling the presence of 'intruders' on their turf, as well as the flight of Zebras and Buck when their safety space is compromised. Trained field guides take groups of up to 8 people out into the bush for a few hours to learn and observe fascinating facts about the African bush.
Accompanied by two armed and accredited field guides, the behaviour of Africa's rich animal life takes on a new meaning due to the guides' identification and interpretation of animal features, analysing spoor prints and droppings, and the vegetation throughout the duration of the walk.
There are also braai (barbecue) facilities, as well as open parking. The nearest shop to Malelane Camp is at Berg-en-Dal Restcamp 9 kilometres (6 miles) away, which also has a popular internet cafe. Malelane Camp is situated 3 kilometres (1.8 miles) from the Malelane Gate on the Berg-en-dal Road (S110) and is administered from Malelane Gate.
Malelane Facilities
One communal kitchen
One ablution block
Communal freezer
There are no shop or restaurant facilities available.
No reception office at camp