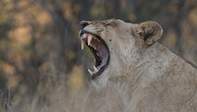 © Shem Compion
Night drives with experienced guides enable you to observe the nocturnal activities of the park's secretive creatures. Other Kruger Park safari activities include guided bushwalks and morning game drives.
At Malelane Camp witness the unspeakable beauty of the rising morning sun illuminating the sky during morning drives, and the seemingly sudden awakening of the bush with the shrill burst of bird song and the canter of animals to waterholes before the strengthening of the sun rays.
In contrast to morning drives, night game drives commence during the twilight hours of the day, when the daylight brightness fades into glorious hues of red and orange before the park is steeped into total darkness. Armed with spotlights, the guides identify elements in the environment and seek to find the elusive nocturnal animals during your safari in Kruger Park.
The open vehicles normally stop at a waterhole to allow you to stretch your legs and to enjoy sundowners and snacks on your safari in Kruger Park. Game walks on this suggested itinerary in Kruger Park allow you to experience the thrill of examining the wilderness at close quarters.
Accompanied by two armed and accredited field guides, the behaviour of the rich animal life takes on a new meaning due to the guides' identification and interpretation of distinctive animal features, analysing spoor prints and droppings, and the vegetation throughout the duration of the walk.
Other wildlife found in this region include: Hyena, Kudu, Wilddogs, Giraffe, Roan, Eland, Sable, Warthog, Impala, Waterbuck, Reedbuck and Rhino. These activities can only be booked in conjunction with confirmed accommodation bookings.