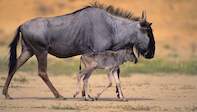 The myriad of birds and wild game in the area is easily spotted by going on bush walks and game drives on your Kruger National Park suggested itinerary. Watch wildlife documentaries in an outdoor amphitheater or visit the knowledge research centre comprising of a library and museum.
The most rewarding game drive is probably the route to Lower Sabie, which follows the well wooded bank of the Sabie River, where Bushbuck, Leopard and even a few Nyala find a home. Watch the Hippopotamus laze in the river and Crocodiles sun themselves on the sandbanks on this Kruger National Park safari. Lion are frequently spotted along this sightseeing route. The coastal forest is home to bushbuck, bushpig, brown hyena and the rare tree dassie.
All the Big Five can readily be seen in the vicinity of Skukuza on a Kruger National Park safari; Warthog and vervet monkeys inhabit the camp and can wreak havoc if visitors leave unguarded possessions. At night, genet, thick-tailed Bush Baby and Fruit Bats can be seen in camp.
The riverfront of the camp is a great place to look for Hippopotamus and Buffalo, especially in the early morning, for your Kruger National Park safari. Gemsbok, Black Wildebeest, Springbok, Buffalo and Black Rhino are found in the arid nama-karoo around the Darlington Dam area. Once this area has been consolidated, Cheetah and Wild Dog will be introduced.
Please Note If you must walk at night please do not do so without a torch.
Birding
Although Skukuza is a large and busy camp, it hosts an excellent array of bird life. For the purpose of your Kruger National Park safari, you can expect to see kingfishers, green pigeons, purplecrested lourie, flycatchers and many more interesting species of birds.
Vegetation
While the camp itself is riverine, with wonderful large trees such as sycamore fig, jackalberry and Natal mahogany, the surrounding eco-zone comprises of thorn thicket on granite/gneiss soils. Knob thorn and sickle bush are prominent.
5 Things to Seek
Warthog
Fruit Bat
Spotted Hyena
Purple–crested Lourie
Thick–tailed Bush Baby
Skukuza Attractions
Dogs Graveyard
Stevenson Hamilton Memorial Library
Lake Panic Bird Hide (located approximately 7km outside the camp)