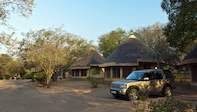 Skukuza Camp caters for all, from comfortable guest cottages and guest houses to more rustic bungalows and safari tents.
Skukuza Rest Camp Accommodation Overview
80 Camping-sites for caravans and tents
178 Bungalows with varying facilities
20 Luxury Bungalows with and without river views
1 Family Cottage with 4 bedrooms
20 Safari Tents furnished on stilts
15 Guest Cottages (4 or 6-bed units)
4 Guesthouses that offer accommodation in 4 bedrooms for larger groups
Bungalow Accommodation
This accommodation in Kruger National Park feature African styled rooms with either 2 or 3 beds. Each bungalow is equipped with an en-suite bathroom fitted with either a shower or bath. Some units are fitted with air-conditioning while others have fans. The units also feature kitchenettes which vary from bungalow to bungalow. Some kitchenettes are fitted with hotplates and sinks, while other have only sinks and some have neither. Cutlery and crockery can be hired from reception.
Luxury Riverside Bungalow Accommodation
These luxury bungalows are situated along the river front and have a more modern design. This accommodation in Kruger National Park features air-conditioning and televisions with limited DSTV channels. Each bungalow is fitted with a double bed. Guests can choose between semi luxury units with a river view or semi-luxury units without a river view and a communal kitchen.
Family Cottage Accommodation
The family cottage forms part of the Waterkant Guesthouse complex and is better known as Waterkant 2. The cottage features a well equipped kitchen and 4 bedrooms. The bedrooms are fitted with 2 single beds each. The cottage also has a living room, a bathroom and a river view.
Guest Cottage Accommodation
Guest Cottages at Skukuza Rest Camp comprise 15 x 4 or 6-bed units with well-equipped kitchens and usually more than 1 bathroom.
Guest House Accommodation
Skukuza has 4 guest houses in prime positions, which offer Skukuza accommodation for larger groups up to 12 persons. The units have 4 air-conditioned bedrooms, each with 2 single beds in each room and a en-suite bathroom with a bath, washbasin, separate shower and toilet. Towels and toilet paper are provided for.
The guest houses feature limited DSTV channels. Moni, Nyathi and Waterkant guest houses sleep 8 guests in 4 bedrooms each while ABSA Guesthouse sleeps 12 guests in 6 bedrooms. The recreation area consists of a dinning room, lounge, kitchen and veranda with braai (barbeque) facilities. The kitchen is fully equipped with stove and oven, refrigerator/freezer, sink, cooking utensils, crockery and cutlery.
Safari Tent Accommodation
Skukuza has 20 safari tents situated on wooden stilts. The tents consist of one room with either 2 or 4 single beds - bedding is supplied. The room also consists of a cupboard, table and chairs, fridge and electric fan. Guests have to make use of the communal ablution and kitchen facilities.
Cutlery boxes are available on request for a nominal fee, however it is advisable for guests to bring their own as availability cannot be guaranteed during peak seasons. Cutlery boxes include the following: crockery and cutlery (set of 4: plates, glasses, cups and saucers, knives and forks, spoons and teaspoons), pot and frying pan, teapot, frying pan, tin opener and water jug.
Camping Sites
For the budget conscious, the camping area for tents and caravans is spotlessly maintained and each site has its own power point. A maximum of 6 persons, one caravan with a side tent and one vehicle, or one tent and one vehicle, or one autovilla, or one motorised caravan will be permitted per site.
In the case of camping with a small tent, more than one tent will be permitted on a site, provided the maximum number of 6 persons is not exceeded. There is an extra charge for additional vehicles, as space can be limited in peak season.
Visitors may use generators from one hour after sunrise to one hour before sunset only. Although ground sheets may be used in the rest camps, specific arrangements must be made at the reception office of those sites where lawns have been planted. Guests can make use of the communal kitchen (cooking utensils, crockery and cutlery are not provided) and ablution facilities.