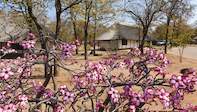 In the midst of a peaceful clearing along the Shingwedzi river, set within two adjacent rings are the camp's bungalows and its luxury guesthouse.
Shingwedzi Accommodation Overview
50 camping sites with power point
12 huts with fridge
66 bungalows with air conditioning
1 family cottage with kitchenette
1 guest house - Rentmeester
Shingwedzi Rest Camp offers guests a variety of accommodations in Kruger National Park. Sleep under the African sky in your tent or caravan. There are 50 sites with power points and rotating braai (barbeque) grids available. Communal ablutions and cooking facilities are also available. The cooking facilities include 24 hour boiling water, washing up facilities, and electric hotplates. A maximum of 6 guests per site is allowed.
There are also 12 rustic huts available with communal ablution facilities. Each hut is fitted with 3 beds. A small fridge is situated on the little veranda. There is no crockery, cutlery or cooking utensils, or air-conditioning available in the huts. The communal kitchen is fitted with electric hotplate stoves and a scullery.
Guests can choose from a range of bungalows to stay in. There are 18 two-bed units all sharing a communal kitchen. Each bungalow features a bathroom with either a shower or bath and air-conditioning. A limited number of fully equipped utensil boxes are available for hire.
There are also 18 two-bed bungalows available with a kitchen. This Kruger National Park accommodation features 2 single beds and an open-air kitchen. The kitchen is fitted with a cooker top, a combination fridge/freezer, and is fully equipped with crockery, cutlery, and utensils. All these units are air-conditioned.
Bigger groups can make use of the 25 five-bed units. One room is fitted with 3 single beds while the loft bedroom is fitted with 2 single beds. These bungalows are fitted with a bathroom with a shower and air-conditioning. Two 2 bed units are also available. One of these bungalows is fitted with a double bed. These units feature an en-suite bathroom with shower and open-air kitchen with a cooker top, combination fridge/freezer and is fully equipped with utensils, cutlery, and crockery.
Stay in comfort in the one 4 bed cottage. The cottage has 1 room fitted with a double bed and a second room fitted with 2 single beds. This Kruger National Park cottage. The facilities include an open air kitchen fitted with a cooker plate, combination fridge/freezer, crockery, cutlery, and cooking utensils. Additional features include a dining room/lounge and an outside braai (barbeque) facility.
The Rentmeester Guesthouse is a luxury unit with a riverside view. This accommodation in Kruger National Park comfortably sleeps 8 guests in 3 bedrooms. Two bedrooms are fitted with double beds and one bedroom is fitted with 2 single beds. There is also a double sleeper couch in the lounge. The guesthouse has limited DSTV channels and has communal braai (barbeque) facilities.
Campsites
Tent or caravan sites, with powerpoint, communal ablutions, and cooking facilities, maximum of 6 persons per site.
Huts
Kruger accommodation in rustic huts fitted with 3 beds, communal ablutions, and kitchen.
Bungalows
Two or 3 bed round rooms, equipped with ablutions (most with showers, but some with baths), air-conditioning, some have both hotplates and sinks. Some of the bungalows only have sinks. Some units are fitted with kitchens, others share a communal kitchen.
Cottage
One 4 bed unit, 2 bathrooms, kitchen and dining room/lounge, riverside view, 1 double bed.
Guest House
Rentmeester sleeps 8 with 3 bedrooms.