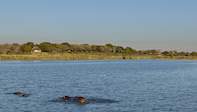 The Lower Sabie Camp graces the banks of the Sabie River in the southern region of the Kruger National Park - South Africa.
The closest entrance gate is Crocodile Bridge, 35km (21.7 miles) to the south, which can be reached from Johannesburg in less than 5 hours, but visitors may prefer to enter at Paul Kruger gate, 53km (33 miles) away and travel along the tarred road via Skukuza Rest Camp. The traveling time from Johannesburg to Paul Kruger is 5 hours.
The new Kruger Mpumalanga International Airport makes the Kruger National Park - South Africa more accessible than ever before. The airport is just 25km (15.5 miles) away from Nelspruit, and is well-equipped with car hire facilities. Skukuza Airport, however will continue to service chartered flights to Kruger National Park - South Africa.
Travel Routes and Times from Johannesburg/Pretoria
Crocodile Bridge Gate: Take the N4 to Nelspruit, head through Nelspruit to Malelane and on to Komatipoort (about 110 km). Then turn left onto the R571 just after Komatipoort and head on to the gate.
Allow between 5 to 6 hours for the trip to the gate. Lower Sabie Main Rest Camp is 34 km away from the gate. Allow about 2 hours for the drive to the camp; however if you want to enjoy the game viewing possibilities and sightseeing oportunities, give yourself more time in the Kruger National Park - South Africa!
Read more about game viewing routes around Lower Sabie
Climate
Kruger National Park - South Africa is in a summer rainfall area. Such precipitation is usually convectional and can result in heavy downpours. The summer months (October to April) are hot and often balmy. Winters are warm and mild, although visitors going on night-drives will require warm clothing.
Vegetation
Lower Sabie has many large riverine trees in camp and the sycamore fig tree is very prominent. The camp is situated in Knob Thorn/Marula savannah on basalt soils. Other prominent trees include the leadwood and sausage trees. The grass is sweet thus attracting many grazing species.
Immediately west is a zone of Delagoa Thorn Thicket on ecca shale soil. Here prevalent trees include the Delagoa Thorn and the Magic Guarri. The grass is still sweet, but shorter.
GPS Co-Ordinates
-25.119830 S 31.915940 E