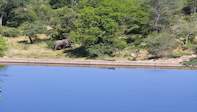 © SANParks
Berg en Dal Camp is situated on the banks of the Matjulu spruit, in the south western corner of the Kruger National Park. The camp is only a 5 hours drive from Johannesburg.
Berg en Dal Camp's location in Kruger National Park, in a ruggedly beautiful mountainous terrain, makes for pleasant weather all year round. The summer months are hot with occasional bursts of quick summer storms, which cools the air and settles the dust. Winters are warm and mild.
The new Kruger Mpumalanga International Airport is just 25km (15.53 miles) from Nelspruit, half an hour's drive from the Melalane Gate. Or, if you are up for it, take a mere 5 hours scenic drive from Johannesburg.
Routes and times from Johannesburg/Pretoria
Malelane Gate: Take the N4 to Nelspruit, head through Nelspruit to Malelane. Then turn left at Kruger National Park sign just outside Malelane and head to the gate. Allow between 4 to 5 hours for the trip to the gate. Berg en Dal Main Rest Camp is 12km away from the gate. Allow about 30 minutes for the drive to the camp; however, if you want to enjoy the game viewing possibilities give yourself more time!
Read more about game viewing routes around Berg en Dal
Climate
Kruger National Park is in a summer rainfall area. Such precipitation is usually convectional and can result in heavy downpours. The summer months (October to April) are hot and often balmy. Winters are warm and mild, although visitors going on night-drives will require warm clothing.
Vegetation
Berg en Dal is situated in Malelane Mountain Bushveld. Many unusual plants grow in the mountain landscape. The plains between the mountains are covered in sweet grass, which attracts a variety of grazers. Prominent trees are the red bush-willow and the magic guarri.
GPS Co-Ordinates
-25.420010 S 31.451220 E