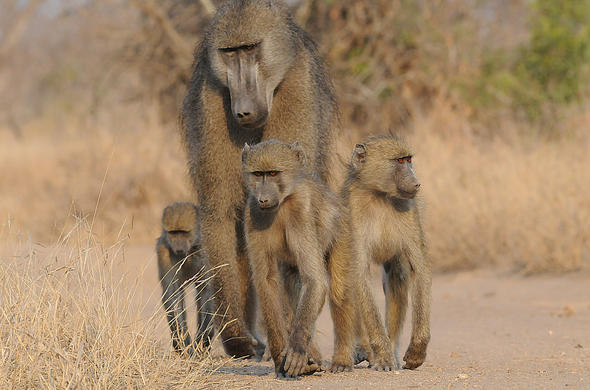 Baboon with three young. G Cooke
An alternative to the H3 tar road between Malelane and Skukuza is the S114, a dust road that also crosses the game migration route near Biyamiti weir and has a number of interesting detours along the Biyamiti and Bume watercourses. The road can get dusty during the dry winter, but it generally has less traffic and allows one more privacy to watch game.About the South West
At Malelane Gate
Malelane Skukuza via Afsaal
Malelane Skukuza via Biyamiti
Malelane to Berg-en-Dal
Malelane to Crocodile Bridge
Matjulu Loop
Numbi Gate
Numbi Gate to Skukuza
Pretoriuskop Area
Pretoriuskop to Malelane
See a
map of South West Kruger Park
The first few kilometres of the S114 follows the Crocodile River between Malelane Gate and the Timfenheni Loop (S121) turn-off. There are often impala, feeding in the company of baboons, along this stretch of the road before it leaves the river and enters the mixed bushwillow and marula woodlands of the Mhlambane drainage area.
There are several sideroads branching off from the S114 that are worth a random drive. One attractive detour is to Gardenia Water Hole, a smallish pan on the Mhlambane Loop (S118), close to the junction of the Mhlambane and Crocodile Rivers. There is a bird hide at the water hole which is named after the attractive copse of thick, old Transvaal gardenia (Gardenia volkensii spatulifolia) trees at the water hole. Look out for the croc that's often lurking in the shallows.

A good time to visit the hide is in late spring or early summer when the gardenia briefly flowers - sunbirds go crazy for the nectar in its fragrant, waxy white-and-yellow flowers. The S118 also has two good viewpoints across the Mhlambane River where there are sometimes elephant and buffalo in the dry river bed and woodland trees.
Upstream from the Mhlambane creek is
Stolsnek
, a rocky saddle that separates the Stolsnek stream from the Bukweneni Creek. This is where famed lowveld hunter
Gert Frederik Coenraad Stols
was buried in 1886. Back on the S114, there is usually a fair amount of activity on the road to Skukuza between the Afsaal turn-off and the Biyamiti River crossing. This is where the road crosses the gabbro strip of sweetveld grazing that runs between the shallow valleys of the Biyamiti and Mhlambane river systems.
Biyamiti Loop (S23) is a recommended detour along this road. The 16-km road follows the river before rejoining the S114 via the S23 at Muhlambamadvube Water Hole. Cheetah are sometimes seen along this road, which has good views across the river into the grassland, woodlands and thorn thickets.
Between Biyamiti Loop and the Shirimantanga Koppies are rolling mixed bushwillow woodlands. Here the S114 is joined by the Bume River Road (S26) and Randspruit Roads (H5)An alternative, longer detour to Skukuza is the N'watimhiri Road (S21) which passes Siyalo Hill (347m) and a series of pans on the N'watimhiri Stream which joins up with the Lower Sabie road south of Nkuhlu. The bush shifts from mixed woodland to thorn thicket the closer one gets to Skukuza. Shirimantanga Koppies and Renosterkoppies Water Hole are recommended stopping points.
Afsaal to Pretoriuskop (H2-2)

The Voortrekker Road is one of Kruger's most interesting drives with several historical points of interest along the way. The road loosely follows a stretch of the 19th-century wagon track between Lydenburg and Delagoa Bay. It was along this road, near Ship Mountain, that Jock of the Bushveld is believed to have been born.