Kruger Park Honeymoon Packages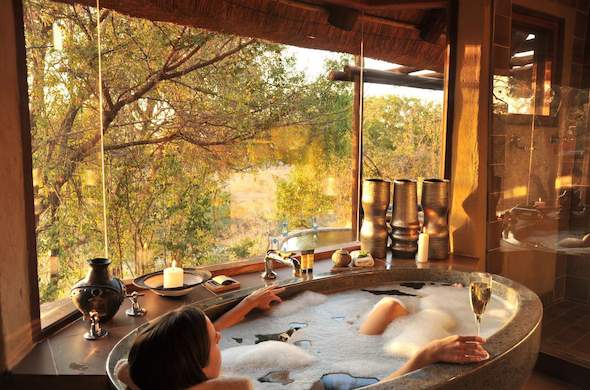 Setting out on life's greatest journey together is an exciting moment, and there is no better way to start out than in the African wilderness. These selected Kruger Park honeymoon packages each offer something different. You can choose between sheer opulence, closeness to nature or tranquil seclusion. To add to the occasion you can indulge in spa treatments, champagne baths or fireside romance.
3 day - Classic Kruger Honeymoon
For honeymooners who lead an active life, enjoy the outdoors and have a genuine inquisitiveness about nature, here is a 3 day romantic Kruger Park package that has it all. Besides the game drives, you can get out on an exciting walking safari with your safari guide, who will introduce you to the more intricate side of life in the bush.
3 day - Classic Self-drive Honeymoon
If living in the wilds is not your style, this 3 day Kruger Park honeymoon package offers country estate living and pampering spa treatments. Submerge yourself in sheer ecstasy with a rose milk bath for two, surrounded by candles and nature or indulge in champagne and Belgian chocolates. Feed the soul and ignite your passion.
3 day - Premier Kruger Honeymoon
Experience the ultimate in pleasure with this 3 day Kruger National Park honeymoon package. Your accommodation will be a premier safari lodge, where you are assured of having seclusion and tranquility, complete privacy, exceptional hospitality and service. Enjoy your romantic stay to the fullest and create lifelong memories.
3 day - Deluxe Kruger Wedding
This is a romantic package with a difference. Enjoy a wedding and then also spend your honeymoon here. Discover the source of an ancient African love story and celebrate your new life in the place where love began. 5 star pampering, artistic splendour and primal South African bush add up to a romantic encounter in Kruger Park.
4 day - Take A Moment Getaway
- Looking to get away from it all? Escape the crowds and relax in the bush. Pamper yourself at a spectacular bush spa. Enjoy afternoon siestas and see wildlife gather at the waterhole while you lounge poolside. Experience guided game drives followed by refreshing sundowners and dinner in a choice of venues accompanied by fine wines from the wine cellar. Fall asleep to the tranquil sounds of the bush.
See Kruger your way: These safaris can be customised to your needs.