With Kruger as Your Witness | Kruger Park Safari Wedding Package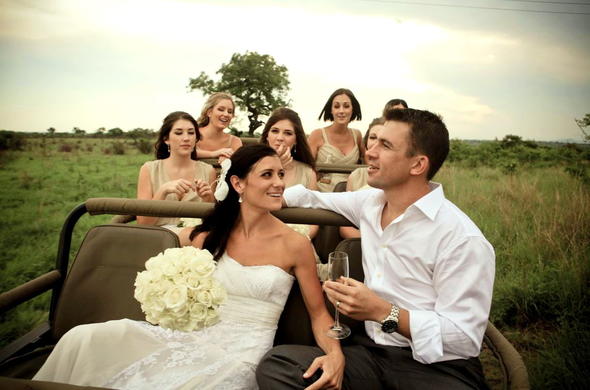 This 4-day romantic African destination wedding safari to a private reserve within the greater Kruger Park is perfect for couples who want a wedding ceremony they will never forget. Enjoy timeless luxury, experience the wilds the untamed Kruger Park and let the spirit of Africa stand as a witness to the joining of your hearts in love.
What To Expect From Your Kruger Park Wedding Safari
Spend 4 days on a flight of romance in the wild and wonderful bushveld landscape of the world-renowned Kruger Park. Enjoy exquisite cuisine, unforgettable safari experiences and a wedding in the heart of the African wilderness. You can expect a stylish and romantic ceremony in a dry African riverbed, luxurious accommodation and incredible memories, made under the African sky.
Enjoy romantic touches throughout which include private romantic dinners under the African sky, romantic champagne bath time experience, lover's private picnic and a Devotional Journey spa treatment. Embark on thrilling game drives into the untamed African bush, enjoy refreshments in the open veld and celebrate your union in timeless African style. The Kruger National Park is the home of Africa's famous Big 5, as well as a plethora of mammal, bird and reptile species who will all be witnesses to your union.
Day 1: Your Wild Romance Begins
View Lodge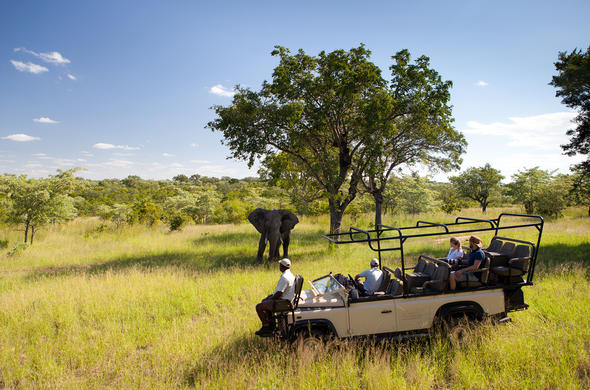 Greetings, lovebirds, and welcome to Africa! A scheduled flight from Johannesburg will take you to an airport close to the Kruger Park, where a private road transfer is waiting to take you to your home for the next 3 nights - an exquisite private Kruger Park safari lodge bordering the Kruger National Park.
After a light lunch head out on your first open safari vehicle game drive and return to the lodge for a private dinner at the Bush Observatory under the African stars. Get ready for an African destination wedding of your dreams as you fall asleep to the sounds of the African wildlife. Timeless romance, an elegant wedding ceremony, a joyous celebration and incredible African experiences await you tomorrow.
Day 2-3: A Wedding in the Untamed Heart of Africa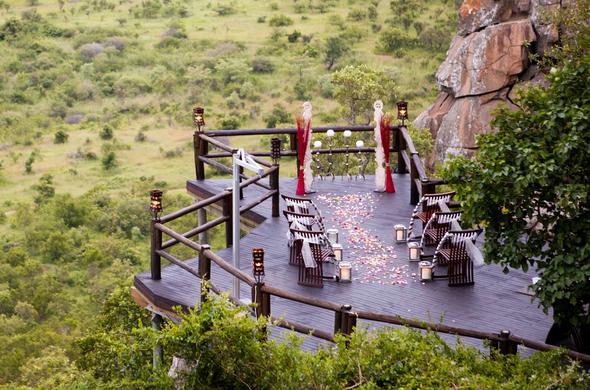 The rising sun smiles on the dearly beloved who have gathered on African soil to celebrate the joining of hearts. You and your wedding party will enjoy luxurious accommodation, 5-star treatment and unforgettable safari experiences during your stay in the heart of the South African bushveld. A local minister, will conduct a beautiful ceremony in a dry riverbed. For you - the bridal couple; sparkling wine, a bridal bouquet, made to your taste using the indigenous flowers of the region, special Wedding Turndown and a wedding gift await you.
Indulge in your wedding cake and take in an incredible performance by local Shangaan dancers on the happiest day of your lives. Enjoy refreshments and canapés on your first afternoon game drive as a married couple and return to safari lodge well after sunset where the wedding celebrations continue with a delicious wedding dinner under the African sky.
Day 4: Just Married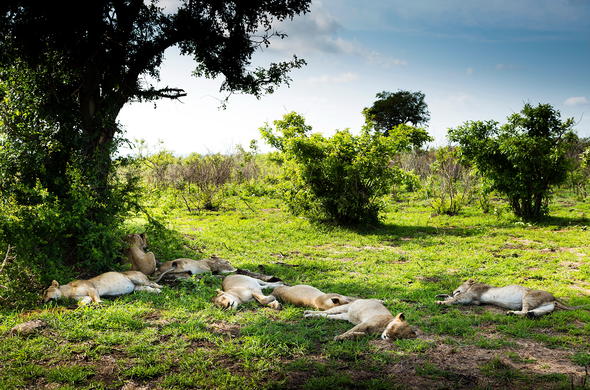 And so, your African destination wedding celebration has reached its end. The time has come to say goodbye to the Kruger Park and to set off into the world as newlyweds. A private car will take you to Hoedspruit Airport, where a flight to Johannesburg and beyond awaits. Your hearts have been joined in the spirit of Africa. The touch of the Wild Continent will never leave you.
If you can't bear to tear yourself away from Africa just yet, you can easily extend your honeymoon and explore the many beautiful experiences that the continent has to offer. Maybe a few days honeymoon on the pristine coastline of the Seychelles? Our Africa Destination Specialists can easily customize your dream African honeymoon and wedding to suit you and your partner's need