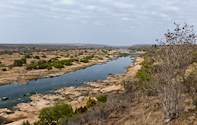 © Roger de la Harpe
Did You Know?
In 1984, van Riet and Louw architects were appointed to design a camp, later known as Berg-en-Dal. The architects focussed on providing privacy and catering for the emerging chalet (cottage) market. A key feature of this camp layout design, was the attempt to maintain natural vegetation inside the camp to a large extent.
A significant shift in demand during this period resulted in a different type of facility being constructed, namely the bushveld camp. Five bushveld camps were constructed in the late 80s and early 90s; Bateleur, Sirheni, Biyamiti, Shimuwini and Talamati.
These were all based on the demand for rustic family facilities that were smaller and more exclusive, with low levels of noise and light. As a result there are limited administrative facilities and no restaurants, shops or filling stations. The provision of air conditioners, fans or refrigeration facilities depends on the type of electricity supplied. The last of the main rest camps to be constructed was Mopani 1991.
The original requirement for this camp was based on providing a stop over point for visitors between Letaba and Shingwedzi, a distance of over 100km. The camp layout became an amalgamation of the bushveld concept offering privacy and low levels of noise and light with a good view, but would include recreational facilities and a higher level of luxuries like air conditioners and kitchens.
Tamboti tented camp built in 1995 was the last of the existing camps to be constructed. A significant improvement in location and design, the locations of the camp took the idea of peripheral placement into account, including giving all tents a view of the river, to increase the tourism quality of experience.It was also the first time that the satellite concept was introduced as staff is housed at Orpen and there's no reception or recreational facilities on site.
(Neem uit die Verlede, U de V Pienaar. A Game Ranger Remembers, Bruce Bryden.
Translations. Joep Stevens.)
In the 1960s, Olifants Camp was build. As the first rest camp chosen and designed taking visitors requirements and sense of place into account, it has subsequently proven to be one of Kruger's most popular camps.
The site was chosen based on the fantastic view over the Olifants River, and the huts were laid out in rows according to the relief of the camp to promote a view over the gorge. During the 1960s and 70s the focus was on the upgrading of existing camps and the addition of ablution facilities.
These Kruger National Park Rest Camps offer chalets bungalows and cottages with basic amenities, ideal for families and groups wanting self-catering accommodation in Kruger Park....
more