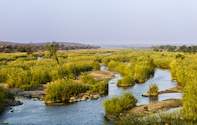 Kruger Park News Archive 2005
It is official, the Blyde River will be known as the Motlatse and the Olifants River as the Lepelle River as from this month. These are some of several proposed name changes in Limpopo that were approved by Dr Pallo Jordan, minister of Arts and Culture, as gazetted on September 16.
The changes affect mostly rivers in Limpopo and include the Levubu changing to Levuvhu, the Houtsrivier to Mogwadi, the Dwarsrivier to Mononono, the Brandboontjie to Mosukudutzi, the Blood river to Mulaudzi and the Sand River to Polokwane.
Olifants consists of 3 eco systems so game viewing is excellent. There is also a high population of Elephant in the area. Olifants Camp offers the most breathtaking river views....
more