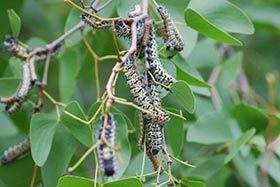 Kruger National Park (KNP) introduced mopani worm harvesting as a pilot project in the Nxanatseni (northern) Region of the park between Punda Maria and Phalaborwa areas from 15 to 28 December 2010. Beneficiaries of the project were sourced from the local communities (park forums) that are found outside the targeted areas. Participants had to apply and obtain the relevant permit before they could take part in the project.
The mopani worm harvesting project is in line with SANParks policy to facilitate sustainable utilisation of natural resources."Mopani worms are a great source of protein and most of the people in the Limpopo Province as well as other parts of the country eat them. With unemployment high, particularly in the rural communities outside the park around the harvesting area, this is another way for us to contribute towards the wellbeing and livelihoods of some of those families, especially during Christmas time," said William Mabasa, the head of public relations and communications in the KNP.
The KNP Rangers escorted and guided harvesters to the harvesting zones while guarding them throughout that period. Scientists will closely monitor the ecological, social and economic impact of the harvesting process before, during and after the project to assess the affect on the ecosystem.
Read more articles about Mopane Worms