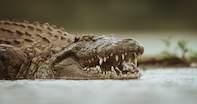 Kruger Park News Archive
Who would have expected that a normal swim on a Monday afternoon would turn into one of the most traumatic experiences of one's life? This is the question that Karen Puttkammer from Makutsi Lodge in the Karongwe Conservancy asks herself. A bizarre story unfolds as she tells about the events of Monday afternoon, February 18.
It was around five in the afternoon and Karen was busy feeding the horses. She had left her eight-year-old daughter, Anke, and five-year-old boy, Felix, at the Lodge in the care of a family friend, whom Karen calls the children's 'surrogate grandmother'. She explains that the lady is a German tourist who visits the Lodge twice a year. The friend and the children were swimming.
The kids were taking turns jumping in and swimming across the pool. There were a handful of guests around and Karen's dad was also not too far off. At one point when Anke jumped into the pool, somebody noticed that a crocodile jumped in after her. Anke was under the water and could not hear the warning shouts from the adults. She reached the other side and came up for air. That was when the crocodile grabbed her upper thigh.
The family friend immediately jumped into the water and held Anke up to prevent her from drowning. By that time Anke's grandfather had come around to help. He tried to get the croc to let go of Anke's leg. He eventually had to push out one of its eyeballs before it loosened its grip. The croc then turned on him and got hold of one of his hands.
It was not until he had pushed out the other eyeball that he could manage to get away from it. Karen arrived on the scene and immediately rushed her daughter and her father, along with their friend, to the Medic Clinic in Tzaneen.
They were all treated for shock and Anke ended up with sixty stitches. Fortunately none of their injuries were too serious. The crocodile, however, had to be shot for it was now blind and posed a threat to the other guests. Great was the amazement at the size of it - an incredible 2.08 metres! "It must have been very hungry and attracted by the noise of the children and the splashing of the water," said Karen.
The closest large body of water is far away; no one ever anticipated that crocodiles would come close to the lodge. She explains that there are some rocks and a garden around the pool. "Nobody knows where it came from. There were a handful of people around the swimming pool and nobody saw it before it went into the water." Karen keeps repeating how blessed they are that the whole incident had a reasonably good outcome.
'Things could have been so much worse!' she said. 'One cannot help but wonder what you could have done to have prevented the whole thing. If it wasn't for the courage of the family friend and my dad who put their own lives at risk to save my little girl, there is no telling what would have happened.' But according to Karen, Anke is actually dealing with this ordeal in an amazing way. 'She is such a self-confident little girl. We as a family talk a lot about the incident.'
Anke couldn't wait to tell her story to her friends. She returned to school on Monday, February 25 where she received a real hero's welcome" said Karen. Karen said that her husband, Jesco, was not on the farm at the time of the attack but that he is the one who helps the family to keep perspective on the situation 'He is stronger than I am. He so patiently explained to Anke that she would never be handed a situation that she would not be able to handle. Even for me it helps me keep on going.'
By Zanne de Bruin