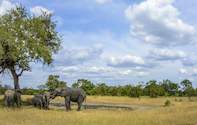 © Roger de la Harpe
When the Great Limpopo Transfrontier Park was officially declared in 2002, Valli Moosa ceremonially cut down 20 metres of the fence separating the Kruger National Park (KNP) from the Limpopo National Park (LNP) in Mozambique.
However, animals still cannot roam completely freely between the two parks as only just over a third of the old boundary fence has been removed to date. According to Piet Theron, the Sanparks transfrontier conservation area programme manager, safety and security concerns are the main reason that more of the fence has not been dropped.
Those sections where the fence has been dropped have been monitored to keep an eye on cross-border crime. The majority of the approximately 57km of fence that has been dropped so far is in the far north of Kruger, with about 12km dropped in the middle section between the parks.
The Limpopo National Park adjoins Kruger for about 150km of Kruger's 350km eastern boundary, between the Limpopo and Olifants Rivers. One section of the fence that is still re-maining between the parks formed the western boundary of the 35,000ha animal sanctuary in the LNP. Animals from Kruger have been translocated into this sanctuary since 2001.
These include elephants, rhinos, buffalo, giraffe, impala, zebra, wildebeest and waterbuck. The sanctuary is now being taken down in the LNP. According to Arrie van Wyk, project coordinator for the Limpopo National Park, about 20km of the 60km fence around the sanctuary have been removed.
Sections of the remaining fence can be seen when entering the LNP through the Giriyondo Border Post. Van Wyk says that some of the sections of fence have been left for the peace of mind of the communities living in the LNP, especially those with cattle.
The Limpopo National Park does not have an eastern or southern boundary fence, but is bounded by the Limpopo and Olifants Rivers and the Massingir Dam. It is not yet certain if, when and where fences will be constructed on these boundaries. Van Wyk says that there are currently about 25,000 people living and farming on the western banks of the Limpopo River, basically inside the park.
If fences are erected, some sections will be left open to form a corridor for animals to move to Banhine National Park, part of the larger transfrontier conservation area. Regarding the third park in the Great Limpopo Transfrontier Park (GLTP), Zimbabwe's Gonarezhou National Park, there is still no link between this park and South Africa and Mozambique.
A stretch of land, currently known as the Sengwe Biodiversity Corridor, will theoretically link the three parks in future. The district councils of Beitbridge and Chiredzi have been discussing the creation of this corridor for some time now, and this issue is also raised at the Joint Management Board meetings. Where tourists will be able to cross the Limpopo River in future must also still be decided.
By Melissa Wray
In Kruger National Park