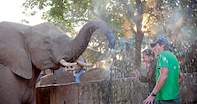 A visit to this Elephant Sanctuary on the banks of the Sabie River in Hazyview will take you on an unforgettable journey. Here you will have an opportunity to to interact with these gentle creatures and hear their heartfelt stories.
Look forward to an experience of a lifetime! Interact with majestic African elephants up close with a range of fun activities ideal for the whole family. Feel their rough skin, exchange trunk greetings and offer tasty treats while learning their history from the elephant handlers. Don't forget to bring your camera along to capture these magical moments.
The best part about your visit to this elephant sanctuary near Kruger is that it contributes to the conservation and broader protection of the species as a whole. Their lifelong commitment and passion ensure that these orphaned elephants are healthy, happy, content and safe and secure in their environment. Overall, it's a win-win for you, and for the elephants.
Elephant Interaction (1 hour)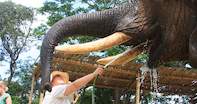 If you've always wanted to get up close to an African elephant. Now is your chance. An hour is just enough time to experience the thrill of being within arms reach of these incredible giants, with a team of dedicated and professional Elephant Handlers at your side, offering interesting anecdotes and facts about them.
You'll soon realise how each has their own distinct personalities, as you exchange a few trunk greetings while feeding them, touching their wrinkled skin, and floppy ears.
ZAR 780 per adult
ZAR 390 per child under 12 years
Interaction & Walk with the Elephant (1.5 hours)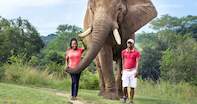 If you remember "The Jungle Patrol", the name for a herd of elephants led by Colonel Hathi in Disney's 1967 film The Jungle Book, then this elephant interaction and walk will be your childhood dream come true! March along gently with a family of these large and loveable mammals as the professional Elephant Handlers teach you more about them.

Exchange trunk greetings as you get to know them a little better. Even though they all have long trunks and big ears, each Ellie, like every human is very different, after all.
ZAR 1 365 per adult
ZAR 680 per child under 12 years
Elephant Experience & Lunch at Hippo Hollow (1.5 hours)
It's not often that you can casually say you had the privilege, and pleasure of being in the direct company of African elephants just before settling down for lunch. While an elephant maybe a little too large to share a seat at your table, this interaction is perfectly timed so that you can partake in feeding them, and socialising with the herd just before enjoying your own sumptuous meal at Hippo Hollow to reminisce on your experience.

Throughout this intimate interaction, professional handlers, who also share a particularly strong, and personal bond with the elephants, will be on hand to share their wealth of knowledge about these incredible pachyderms, as well as their unique characteristics and behaviour traits.
ZAR 1 700 per adult
ZAR 850 per child under 12 years
Sunset Interaction, Elephant Walk & Sundowners (1.5 hours)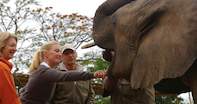 If you'd like a little more time to bond with the members of the herd, this elephant interaction and walk will reward you with exactly that. Experience the pleasure of spending the late afternoon with these majestic creatures, feeding them, exchanging truck greetings and learning about their important role as wildlife ambassadors for their species.

After ambling out on a relaxing afternoon stroll alongside the herd members, you'll catch a glimpse of their evening routine, as they meander back to their stables where a hearty meal awaits them. As they peacefully settle down to rest, and you bid them a fond farewell, complete the experience with a well-deserved traditional sundowner drink as the sun sets beyond the horizon. There's no better way to end a day out on a South African safari.
ZAR 1 700 per adult
ZAR 850 per child under 12 years
Ultimate Elephant Experience (2 hours)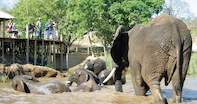 With professional and dedicated handlers at your side, enjoy an unrushed and fully interactive experience with a herd of African elephants while learning more about each one. You'll soon realise that each has their own distinct personality and you'll have ample time to bond with them, and no doubt, sharing a good laugh.

Feeding elephants can be a lot of fun, as is exchanging trunk greetings, and walking alongside them as part of their family, but, one of the most entertaining elements of this elephant interaction experiences in being able to watch them enjoy a refreshing swim and indulging mud bath while you tuck into a delicious picnic on the deck, with panoramic view over the Sabie landscape.
ZAR 2 730 per adult
ZAR 1 365 per child under 12 years
Half Day with the Elephants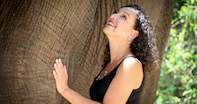 Get ready for an incredible morning with Tembo, Shamwari, Ziziphus, Medwa, Lindiwe and Andile, who will make their grand entrance ambling down the pathway to formally introduce themselves with a special trunk greeting. After introductions and a snack offering, you can help the handlers give the elephants a good brush. An elephant simply must look at his or her best when meeting new people, after all.
The handlers will be at your side throughout this experience to teach all about the lives of these incredible creatures and support you in gently interacting with the herd. It's not only the Ellies that will get to indulge in some treats though, as hot drinks and fresh muffins await you on the deck overlooking the Sabie Valley. Rejoin your newfound friends for some fun until midday, when you can indulge in a picnic lunch on the deck while they enjoy a refreshing swim and mud bath in the dam.
ZAR 3 360 per adult
ZAR 1 680 per child under 12 years
Full Day with the Elephants
Experience the privilege of sharing an unforgettable day with six majestic African Elephants. Your day starts bright and early meeting the sleepy elephant herd and exchanging special trunk greetings, which always includes lots of yummy treats (for them at least). The balance of the day will be spent with the herd as they carry out their daily activities, which includes relaxing rambles through the African bush with regular stops for feasting.

Weather permitting, enjoy watching the elephant delight in their favourite activity; indulging in an oh-so-glorious mud bath and a leisurely swim in the dam. There is nothing an elephant loves more! Delight in a sundowner drinks back at the stables, while the elephants get ready to settle for the night. You'll also have the option of 'rolling up your sleeves' and helping the handlers prepare the stables to ensure the elephant enjoy a comfortable night's sleep.
ZAR 4 200 per adult
Children and the Gentle Ellies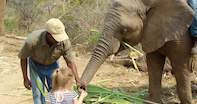 Children of all ages are welcome but have to be under adult supervision at all times. Your little ones can feed, greet and walk hand-in truck with the gentle giants. The elephants feel comfortable around children and often feel a familial kinship with the young ones.