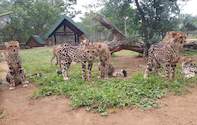 The Hoedspruit Endangered Species Centre (HESC) concentrates on the conservation of rare, vulnerable or endangered animals with emphasis on Cheetahs and Rhinos. Tours and hands-on student programmes are offered at the centre.
The HESC is focused on the education of learners, students and the general public in conservation and conservation activities; eco-tourism; the release and establishment of captive-bred Cheetahs back into the wild and the treatment and rehabilitation of wild animals including orphaned Rhino that are brought to the centre.
The Hoedspruit Endangered Species Centre has established itself as one of the leading private research and breeding facilities for endangered species in the country. Governed by a progressive and modern management approach, it concerns itself with the breeding and maintenance of several endangered indigenous wildlife species in Southern Africa. There is a curio shop and drinks and light snacks can be purchased at the deli.
Standard Tours: 2 Hour Drive Daily at 9am and 11am
Adults R600 p/p
Pensioners 60+ (ID compulsory) R500 p/p
Children (6-12 years of age) R300 p/p
Children under the age of 6 No charge
24-hour prior booking compulsory – No walk-ins
School Tours: Driving and Walking 1 Hour Excursion
School groups (Grade 1-12 and Teachers)
Driving – duration 1 hour R300 p/p
Walking – duration 1 hour R100 p/p
24-hour prior booking compulsory – No walk-ins
Directions to Hoedspruit Endangered Species Centre
Take the R36 to Ohrigstad, through the Strijdom Tunnel to Hoedspruit.
Turn right at the R40 to Klaserie / Bushbuck Ridge. For Hoedspruit Endangered Species Centre continue on the R40 past the entrance to Kapama Game Reserve (Buffalo Camp) and Camp Jabulani. The entrance to the Centre (Cheetah Project) is reached approximately 10km further on the left. Report at the gate and continue on the gravel road for 400 metres.
Students Programme - Wildlife Conservation Experience
The Hoedspruit Endangered Species Centre also offers an intensive, hands-on Student Programme to conservation and adventure enthusiasts from around the world. The centre is home to various species, including Cheetah, Rhino, Wild Dogs, Leopard, Ground Horn Bills and Sable Antelope. Participants will form part of the "hands-on" team and work side by side with full-time personnel of the centre in the daily tasks of the centre (feeding, animal care, cleaning).
Aim of Programme
Participation, Conservation and Sightseeing (practical)
Details
Programmes are run for one to three weeks and include a basic conservation course, consisting of a theoretical component, followed by active participation in practical exercises. Accommodation is in thatched 2 person huts and 3 meals a day are prepared by participants in the camp kitchen for a team-building experience.
Highlights
Hands-on experience - caring for animals
Daily talks on various topics - e.g. conservation, identification, survival
Practical - outings to Kruger & Kapama; tracking in the bush
Other - possible Big 5 walk, Elephant interaction
Community work at a rural school