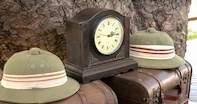 © Decor at Hamilltons
These are some of our guests most frequently asked questions about travelling in Kruger National Park, including health and safety, conservation fees, park rules and more.
Basics
What should I pack?

There are many useful items that you should pack when going on a safari. Read our guide on What to Pack for a Safari in Kruger Park.
Will I have cell-phone reception in Kruger National Park?
Yes, there is mobile phone coverage in most of the park; the signal strength varies so one needs to stop where signal is at its best to make a call.
The use of cellular phones in public areas and on game drives is not permitted. You are in the african bush - it is time to switch off your phone, sit back, relax and listen to the sounds of the bush.
Kruger Park Cell Phone Coverage Map
Health & Safety
Will I be safe from wild animals at night?

Yes, you will be safe as long as you follow all the Park rules. Make sure you are at your booked camp before the gates close. Camps are closed and fenced off to safeguard against wildlife; an occasional monkey or baboon can be found roaming around in the Camp but they present no danger to you.
You are able to walk safely and freely within the boundaries of the camp at night.
Is the water safe to drink in Kruger Park?

Yes, water is safe to drink in Kruger Park, however bottled water is provided in all rooms courtesy of the lodge.
Should I be worried about Malaria in Kruger Park?

Kruger Park is a malaria risk zone. You should be aware of the risk but it should not stop you from coming to Kruger and enjoying your African safari. There are over a million visitors to the Kruger Park and only a few cases of malaria reported.
Malaria high risk is during the wet season between October and May, with the months February to May being the peak risk period. We recommend that you consult your GP for the correct prophylactic to prevent malaria.
A course of anti-malarial medication will need to be taken at least a week before travelling - so be sure to consult your GP well before you travel.
I'm pregnant and want to go on safari but want to avoid a Malaria area. Are there any areas in the Kruger Park that are malaria free?

No. The entire Kruger Park area is considered Malaria risk. There are some wonderful private game reserves in Gauteng and the Eastern Cape that are Malaria risk free such as Madikwe and Shamwari.
These reserves are not only home to the Big Five but also many other great animal species - perfect for a malaria-free safari. Speak to one of our consultants to make a few suggestions.
Do we need to bring our own mosquito nets when visiting Kruger Park?
Most private lodges have mosquito nets over the bed and as part of their service also provide you with anti-mosquito repellents like: anti-mosquito cream, aerosols, mosquito coils or electric plug-in dispersant's.
Are there any precautions I can take to prevent mosquito bites?

While you are on your African safari you can prevent insect bites as follows:

Cover your arms and legs as the evening approaches. Use light colored clothing to cover exposed skin areas - especially around the ankles.
Wear long sleeved shirts, long trousers, socks and closed shoes.
Apply insect repellent to exposed skin areas every 4-6 hours.
Burn insecticide oils or electrically heated insecticide tablets in the bedroom at night.
Read more on avoiding contracting malaria.
Conservation Fees
What are Conservation Fees?

Every visitor to the Kruger National Park will pay a Conservation Fee for every day spent inside the Park. Only by contributing to conservation can funds be raised to help conserve the park's natural and cultural heritage.
The funds are not only used for conservation but also to maintain viewing hides, water supply, water holes etc.
For more information and prices visit our Conservation Fees page.
Why are the conservation fees for International Guests so much more expensive then for SA Residents?

SA Residents are already contributing to conservation with their taxes and therefore pay an adjusted rate.
When do I pay Conservation Fees?

Conservation Fees are mostly paid upon arrival at the Entrance Gates unless otherwise stipulated in your confirmation voucher.
If you are in possession of a valid Wild Card - the conservation fees will fall away as you will have already contributed to the conservation with your membership fee.
Park Rules
Can I take my dog or pets into Kruger Park?

To avoid transferring diseases and for general safety of your pet; NO animals may be brought into the Kruger National Park.
An exception can be made for guide dogs should you be visually impaired. You will need to inform your consultant in advance so that a proper license can be obtained.
There are hotels and self-catering accommodations near the Kruger Park that are pet-friendly. You can enter the park during the day as a day visitor.
The hotels offer a dog sitting service in the form of a kennel during the day which leaves you free to enter the Kruger Park as a day visitor for some game viewing.
We are planning to do a self-drive in Kruger Park. What is the speed limit?

There is a maximum speed limit of 50 km/h (31 m/h) on tarred roads, 40 km/h (24.8 m/h) on gravel roads and 20 km/h (12.4 m/h) in Rest Camps.
An average speed of 20 -30 km/h (18.6 m/h) is recommended in order to enjoy the full game viewing experience.
May I feed the animals in Kruger Park?
Absolutely not! You may not feed any animals in Kruger Park, even monkeys and baboons that might run around in the camps. It's a serious offence and you will be fined heavily.
If animals are fed they will lose their natural fear of humans and could become aggressive.
Read more about Terms of Conduct in Kruger National Park