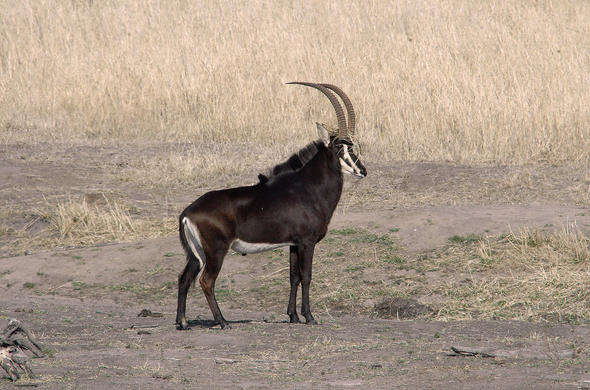 Sable Ram. G Cooke
The character of northern Kruger is entirely different from that of the south. This is because of the drier climate and the dominance of one main vegetation type - mopaneveld. These two factors limit the animal-carrying capacity of the land, so the variety and amount of game to be seen is not comparable to the area south of the Olifants River.
About Southern Mopaneveld
Engelhard Dam
Letaba Area
Letaba Camp to Mozambique
Letaba to Mopani
Letaba to Olifants
Olifants Area
Palaborwa Gate Area
Phalaborwa to Letaba
Phalaborwa to Mopani
See a
map of the Olifants area of Kruger Park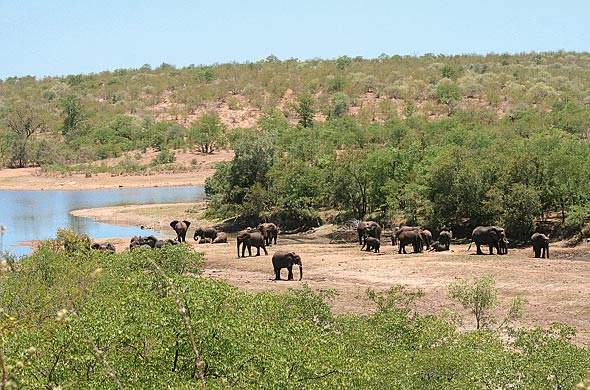 Nonetheless, northern Kruger has its own magic, and the area between the Letaba and Olifants rivers, in particular, will not disappoint those seeking the full Kruger experience.
Phalaborwa Gate leads one directly into undulating woodlands of mopane trees mixed with bushwillows and acacias. Mopane grows as a tree or a shrub, depending on the climate and the degree of usage by elephants. Mopaneveld is the elephant's kingdom.
More than half of the elephants in Kruger live in this environment, making use of virtually every part of the mopane - eating leaves, roots and bark and even twigs that have been burnt by fire.
Phalaborwa Gate Explorer Options

Phalaborwa Gate to Mopani (H14) 60km (2,5 hours); tar road; road tracks Ngwenyeni River through mopane and bushwillow woodlands; good for wild dogs, usually lots of elephant in mixed mopane woodlands north of Letaba River crossing;
Letaba Road (H9) (51km; 2 hours); tar road through mixed mopane and bushwillow woodlands; stop at Masorini Archaeological Display; game more plentiful around Letaba Camp.
Look out for wild dogs on all the roads in the Phalaborwa area. These endangered animals avoid the lion-dominated central plains, restricting themselves to roaming in more marginal areas. There appears to be a high concentration of African wild dog in the western mopaneveld between the Olifants and Letaba rivers.
The best chance of seeing them is early in the morning which is their main hunting time. Stevenson-Hamilton believed wild dogs disturbed other animals more than any other predator in Africa. "A pack descending suddenly on a district, scatters animals far and wide...and it is not difficult to assess from the restless and uneasy manner of impala and other antelopes...that these bush pirates are on the warpath".
In the Area

The underlying geology here is a mixture of granite and gneiss. In the Phalaborwa Gate area the granite juts out of the landscape in a series of distinctive koppies that have been used as navigational landmarks for centuries. There are the remains of many Iron-Age villages at the base of these hills.
There are two get-out points within 10km of Phalaborwa Gate - Sable Dam and Masorini Picnic Site. Sable Dam, on the S51, is an exposed stretch of water within the mopaneveld. Although it was named after a herd of sable antelope associated with this area, these rare antelope are rarely seen at the dam. In fact they are rarely seen at all because of their preference for denser thickets. Sable and roan numbers appear to be declining in the Park, possibly due to the increase in the elephant population.
The grass on the granitic soils in this region is a mixture of sweet and sourveld, but it is generally sparse because of low rainfall. The more palatable grasses are generally confined to the lower-lying areas, so the best game spotting is in the drainage lines and the contours along dry stream beds.There is a bird hide at Sable Dam. Lion frequently come to the water hole at dawn to drink, but the dam is generally not heavily trafficked by animals. Steenbok are a regular sighting in the surrounding bush.Masorini Picnic Site, 10km from Phalaborwa Gate, is a convenient spot for lunch or just a quick toilet stop. It's at the foot of the big-bouldered Vudogwa Hill (439m), next to the remains of an Iron-Age village. Firewood and cold drinks can be purchased at the site, but one has to provide one's own food. Gas braais are available for hire.
Shifomhisi the eccentric and elusive poacher
One of Kruger's legendary eccentrics was a poacher called Shifomhisi. Originally from Acornhoek, just outside the Park, the Shangaan speaker moved into Kruger during the 1940s to pursue the existence of a wild man. He lived in aardvark holes on the banks of the Olifants River south of Phalaborwa and usually wandered around the veld completely naked, foraging on roots and trapping small animals. He refused to cut his hair or wash.
According to Kruger historians Kloppers and Bornman, Shifomhisi was an expert in concealment and managed to elude rangers through his cunning veld craft. If detected, they wrote, "he bolted with the speed of a tsessebe, leaping over bushes like an impala pursued by lion and seemed impervious to such things as thorns or fatigue".
However, once Shifomhisi began stealing from rangers' pickets, he provoked an organised campaign to capture him. A group of rangers tracked him down in the early hours of the morning to a hollowed-out anthill and tried to flush him out by throwing in burning sticks. Shifomhisi charged through the cordon into the night and disappeared. The rangers followed his tracks along the banks of the Olifants River and came upon him drinking at a pool.
He made off into the bush but fell over a rock, injuring his leg and was captured by the rangers.
Shifomhisi was charged with poaching but was found mentally unfit to stand trial. He ended his days in a lunatic asylum.