Hyena and Pup. G Cooke
The route between Letaba Camp and the Mozambique border post of Giriyondo includes the main Mopani Camp road (H1-6) and the Giriyondo Road (H15).
About Southern Mopaneveld
Engelhard Dam
Letaba Area
Letaba Camp to Mozambique
Letaba to Mopani
Letaba to Olifants
Olifants Area
Palaborwa Gate Area
Phalaborwa to Letaba
Phalaborwa to Mopani

See Kruger Park Olifants Area Self-drive Map
Giriyondo Road (H15)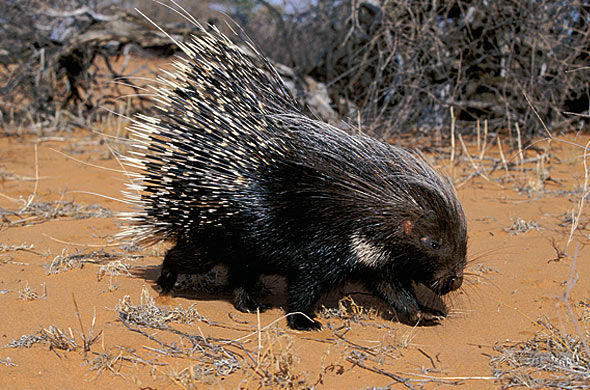 Allow about an hour-and-a-half to get from Letaba Rest Camp to the Giriyondo Border Post, the southernmost access point from South Africa into the Limpopo National Park. The Giriyondo Road (H15) follows the mopane scrubveld over the Makhadzi watercourse and through the flatlands to a gap in the Lebombo that marks the border with Mozambique.

This road was first developed in 1903 by what was then the Witwatersrand Native Labour Association to facilitate the recruitment of Shangaans from central Mozambique for the gold mines of Johannesburg. In those days, labour recruitment was a profitable business that the authorities tried to regulate, with varying degrees of success.

The WNLA had a series of rough-and-ready overnight camps every 25km between Massingir in Mozambique and Gravelotte, which is just outside the Park north of Phalaborwa Gate. From there, the recruits were sent by rail to the Johannesburg goldfields where they worked underground mining the metal that has made Gauteng Africa's richest commercial hub.

There is a tradition among returning Mozambican mineworkers to this day that when they hear the "bird of the lowveld" - the three-streaked tchagra - they know they are halfway home.

Even if one is not going to Mozambique, it is worth doing the 9-km trip along the H15 to Makhadzi Picnic Site where a small interpretation centre was built in 2003. Makhadzi has extensive kitchen, cleaning and ablution facilities, which makes it a good stop-off for anyone returning from Massingir Dam.

Firewood, charcoal and cold drinks are on sale as well as some rather desperate-looking ornaments made out of tin cans and mopane leaves. The picnic site is just beyond the Makhadzi River crossing where elephants often gather.

Not far from the road along the stream is the site of a northern outpost used by Steinacker's Horse during the Anglo-Boer War. The remains of the camp were discovered during a field survey by rangers in 1996. Archaeologists began excavating the site in 1997 and many of the artifacts they recovered are housed in the Makhadzi interpretation centre, which also details the development of the Transfrontier Park and the ethnography of the area.
Giriyondo Border Post

Giriyondo Border Post is open in summer (1 October to 31 March) from 8am to 4pm and in winter (1 April to 30 September) from 8am to 3pm.

Currently, only 4x4s are allowed across the border, and no vehicles that weigh over four tons.

No commercial traffic is allowed through Giriyondo.
Border telephone number: (013) 753 5757.