From 18,150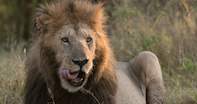 This 4 day guided Kruger Park safari trip is the most hassle-free way to experience spectacular wildlife viewing - ideal for a midweek safari getaway or a long weekend break from Johannesburg.
Tantalizing Kruger Safari Experience
Safari with us - the easy way! Our 4 Day Tantalizing Kruger Safari starts and ends at OR Tambo International Airport in Johannesburg. You will be collected and transferred to a classic safari lodge which provides a cosy base between riveting wildlife safaris in Kruger National Park.
Game viewing activities include thrilling night game drives, a sunrise game drive or morning bush walk, a sunset drive and a full day Kruger National Park safari. All game viewing is conducted by expert rangers and guides which will give you the best chance of seeing all the wildlife on your bucket list!.
Highlights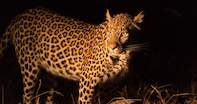 Exciting sunrise, sunset and night game drives
Full day guided safari inside Kruger National Park
Classic safari lodge accommodation
Delicious breakfasts and 3 course dinners
Day 1: Johannesburg - Kruger Park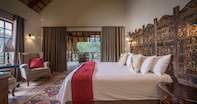 This affordable guided Kruger Park safari kicks off in the city of Johannesburg. You'll be picked up at the airport before being driven to Kruger Park in an airconditioned vehicle.
Expect a decent amount of driving but it'll be well worth it once you get going. On arrival in Nelspruit look out for your name and our representative who will welcome you and drive you to the lodge.
After an early dinner and you will set out on your first exciting game drive in Kruger National Park. Night game drives are thrilling as you get to see the nocturnal wildlife of the Kruger Park as they come alive with nightfall and set out to hunt.
Get a good night's rest back at the lodge where the decks are constructed around existing Marula and other bushveld trees, creating a focal point for connecting luxury bush chalets through raised pathways for your comfort.
Day 2: Wildlife Safari in Kruger National Park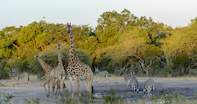 Over the next two days, the focus will be on the mother of all wildlife areas: the Kruger National Park. Each morning will kick off with an immersive game drive or bush walk led by an experienced ranger-guide who knows the park like the back of his hand.
Your guide will know exactly where to take you to catch a glimpse of the 'locals'- prides of lion, giraffe, elephant, buffalo, zebra, warthog, various species of antelope and plenty of birds. Sightings are always down to luck, but keep your eyes and ears peeled and your camera close at hand.
Going on game walking trails in Kruger National Park is an experience you'll never forget. See and hear the bush up close as game rangers lead you on these once-in-a-lifetime tours. Trained field guides take up to 8 people out into the bush for a few hours. They track rhino, elephant and lion on foot and learn and observe fascinating facts about the African bush.
If walking isn't your thing then you can opt for a guided sunrise game drive departing in the early morning hours before the sun awakens the world. Qualified guides will take you on an animal viewing adventure while experiencing the sunrise over Kruger National Park. Breakfast is enjoyed on return to the lodge.
Take the rest of the day to relax around the lodge and spend some time at the pool overlooking the bush. Rest and relaxation is the order of the day.
Your chance to spot more wildlife continues with a sunset drive where your experienced guide hosts an informative drive with fascinating facts about nocturnal wildlife and their environment.
Day 3: Full Day Safari in Kruger National Park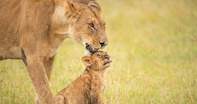 The morning will kick off with a full-day immersive game drive led by an experienced ranger-guide who knows the park like the back of his hand. Breakfast packs will be provided.
Heed the call of the wild and join us for a once-in-a-lifetime safari in one of Africa's premier nature reserves, the Kruger National Park. Wildlife safaris are conducted in elevated open game viewing vehicles for a more intimate experience. Once you have entered the Kruger National Park the safari begins to track down the Big 5! You will receive a breakfast pack which will be enjoyed at one of the rest camps.
After an exciting day full of thrilling wildlife sightings you will return to the lodge, where you can relax and enjoy dinner.
Day 4: Kruger Park - Johannesburg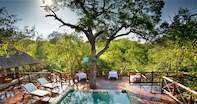 After a jam-packed experience in the Kruger, it's time to head back to Johannesburg. You will be collected from the lodge after an early breakfast and dropped off in Nelspruit for your drive back to OR Tambo International Airport.
If you get peckish, there will be just enough breaks at petrol stations to keep your snack supply well-stocked and ensure everyone is a happy camper!
You should arrive at O.R Tambo International Airport in the afternoon.
Included
Shared return shuttles and transfers between OR Tambo, Nelspruit and lodge
3 nights accommodation in a classic lodge in standard en-suite room
3 three course dinners
3 breakfasts
1 night safari in Kruger National Park
1 morning walk or sunrise drive in Kruger National Park
1 sunset drive in Kruger National Park
1 full day safari in the Kruger National Park
Kruger conservation and entrance fees
Wi-iFi

Not Included
All items of a personal nature
Lunches and all drinks
Laundry