From 14,450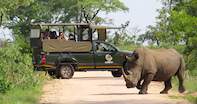 The Kruger Safari Express tour allows you to customise your own guided tour incorporating a variety of activities.
On this short Kruger Safari Express tour you have the opportunity to choose the duration of your stay. Choose between a 2 or 3 night stay incorporating full day safaris in the park, exploring the beautiful Panorama route and getting up close and personal with elephants to obtain a better understanding of these magnificent creatures.
Accommodation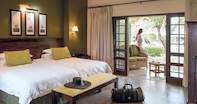 You will be transferred from Johannesburg to your accommodation in Hazyview. Your accommodation is but a short drive from the renowned Kruger National Park, and features modern facilities and amenities. The hotel has a swimming pool set in lush gardens and complimentary wifi. You will be close to various quaint restaurants and shops. Breakfast and dinner is included in your stay.
Kruger National Park Safari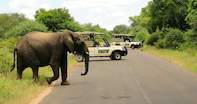 Your hotel will prepare a breakfast pack this morning and you'll be collected at sunrise for a shared game excursion in Kruger National Park.
This full-day guided tour will give you the chance to track an abundance of wildlife in an open safari vehicle and if you're lucky enough you might spot all of the African Big Five (elephant, lion, leopard, rhino, buffalo). Your guide will stop at the different wildlife sightings to give you an opportunity to savour the moment and take a few photos
Panorama Route Tour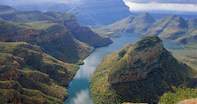 After an early breakfast, you will be collected for your half day morning guided tour of the Panorama Route which is a shared tour conducted in a closed, air-conditioned vehicle.
On this scenic 4 hour tour, you will see the highlights of the Panorama Route including the best waterfalls of Mpumalanga - the Lisbon Falls which is the highest waterfalls in Mpumalanga and the Berlin Falls. You will also witness the picturesque views at God's Window and the Pinnacle viewpoint. Entrance fees are included.
Elephant Interaction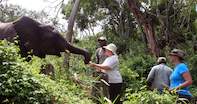 On your arrival day if you prefer, you can visit an Elephant sanctuary in the late afternoon. The sanctuary has dedicated itself to securing the future of the African elephant and welcomes you to share in the excitement of a close encounter with these gentle giants.
The interaction offers you the opportunity to touch the elephant, exchange trunk greetings and offer them a tasty treat or two. Explore the rough contours, stroke the smooth skin under the ears and enjoy the cooling breeze when the elephant flaps its ears.
Learn about their fascinating behaviour shared by their experienced elephant handlers. Your visit to this elephant sanctuary ensures that these incredible mammals continue in their important role as wildlife ambassadors for their own kind.

3 Day Kruger Safari Express (Option 1)
Scheduled return shuttle transfer from Johannesburg to Hazyview
2 nights accommodation in a comfortable standard hotel room
Breakfast and dinner
1x 60 min elephant interaction where you get to meet and exchange trunk greetings with an elephant
1x Full day guided game drive inside Kruger National Park in an open game drive vehicle
1x Half day Panorama Route guided tour conducted in an air-conditioned vehicle
Park and conservation fees are included
3 Day Kruger Safari Express (Option 2)
Scheduled return shuttle transfer from Johannesburg to Hazyview
2 nights accommodation in a comfortable standard hotel room
Breakfast and dinner
1x Full day guided game drive inside Kruger National Park in an open game drive vehicle
1x Half day Panorama Route guided tour conducted in an air-conditioned vehicle
Park and conservation fees are included
4 Day Kruger Safari Express (Option 3)
Scheduled return shuttle transfer from Johannesburg to Hazyview
3 nights accommodation in a comfortable standard hotel room
Breakfast and dinner
1x 60 min elephant interaction where you get to meet and exchange trunk greetings with an elephant
2x Full day guided game drives inside Kruger National Park in an open game drive vehicle
1x Half day Panorama Route guided tour conducted in an air-conditioned vehicle
Park and conservation fees are included