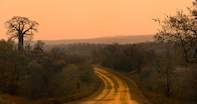 © Roger de la Harpe
An overview of Digest of rangers diaries August 1941 Kruger National Park
Section one
Ranger paid gangs and field rangers on the 7th and went to see Badenhorst again, who got up a little while that day and whose wife was attending to the issuing of permits, etc.
Ranger sent field ranger George out on the 10th to investigate the origin of a grass fire. Field ranger thought the fire had been started by a cigarette from some tourist. Feeling better from an attack of fever, Ranger went to Skukuza on the 14th. Tourist reported a TK car for going off the road and chasing lions off a hill.
Ranger went to spot to investigate and found the report correct. On the 15th Ranger took Mr van Graan to the Barberton Hospital. Mahlabantu picket brought three prisoners for hunting with dogs in the Kruger National Park (KNP) on the 19th and on the 20th they were sent to Skukuza for trial.
On the 29th Ranger's lorry returned from Skukuza and he sent the lorry back. As the speedometer was not working he could not keep note of mileage. He also saw a big fire at Nyongans and found that it was one of the hedges caught alight. On the 30th Ranger patrolled on horse-back. Grazing round Pretoriuskop was better this year in August than it ever was and consequently game was plentiful. Ranger met the Minister of Justice in the camp that morning.
Section two
On the 4th and 5th Ranger patrolled upper Crocodile River area. Farmers in Boulders district reported improvement in hippo position and few of these animals then caused damage to crops.
Ranger went to Komatipoort on the 7th to see the SA Police about reports of poaching in the Crocodile River valley near Hectorspruit and set special patrol of field rangers to watch that area.
On the 8th Ranger patrolled Lower Crocodile River area. No sign of poaching in the Park, but field rangers reported the killing of an impala by white man near Hectorspruit, outside the Park.
On the 14th the Ranger took the Board Secretary to Skukuza. Ranger again went to Lower Crocodile area where special field ranger patrol reported that a most thorough search revealed no traces of poachers having crossed the river into the Park.
On receiving message from Mr J Wiid that he had destroyed a hippo in his tomato field that previous night, Ranger took a gang of men over on the 19th to collect the carcass, but found that the dead animal was lying in Mr Wiid's land, and was therefore, his property.
On the 25th Ranger went to Riverside farm on hippo work and put a field ranger with a shotgun there to drive hippo away from crops at night.
Ranger went to Luagahli picket area on the 31st. No traces of poaching in the Park. Road patrols in the afternoon. All OK. Again revenue from tourist traffic a record for the month of August. Veld dry but game still in fair condition. A fire was accidently started (probably by tourists) on the 3rd instant on the Malelane-Skukuza road, but was put out before much veld was destroyed.
A patrol road nine miles in length has been cut by prison labour along the Beamise, Hlambabadula and Mhulu Rivers, and should prove a popular road when opened to tourist traffic next season.
Buffalo frequently seen here, also klipspringer. Other game animals common to section two are plentiful. Scenery fine.
Lions killed an ox on Mr Wiid's farm at Hectorspruit but he shot one lion and probably killed another by poisoning. This is the only case of lions having given trouble to farmers on the Park border for a long time.
Hippo still do damage to crops at various points along Crocodile River, and two field rangers are still engaged driving them out of lands at night. One shot by farmer at Hectorspruit. Rain badly needed.
Section three
On the 3rd one hippo bull was killed fighting. Board of Trustees inspected Crocodile Bridge Camp on the 13th. On the 16th field ranger Matches brought a prisoner from the border and reported that he was fired on but succeeded in capturing one person bringing meat from Portugese East Africa (PEA) to Transvaal.
On the 19th Ranger proceeded to Komatipoort and interviewed SA Police about complaint by Matches. Two more prisoners taken and also got news of the whereabouts of ring leader, known as Slem. Patrol to Lower Sabi. Warden called.
Ranger patrolled Crocodile River on the 21st. No sign of poaching. Mirror stolen from Crocodile Bridge Rest Camp by tourist, car chased to Malelane, mirror recovered and case sent to Warden.
On the 26th the following sentences were passed at Komatipoort: Slem five months, Sangese one month (gave evidence for crown), Vambi three months, Mansinge (female) nine pounds or three months, all including hard labour. Charge: trespass, carrying meat from PEA and firing a shot at field ranger Matches.
On the 31st all quiet. Rainfall for month: 0.05 inches.
Section four
1-2 patrol western border. The hunting party is behaving well.
17-23. Hunting parties on western border have all left. They came close to border from Gowry, but never gave cause for action against them. Special constables deployed on eastern border did not detect anything noteworthy and they are well organised.
Reported that game is scarce in general, but they have sighted a few buffalo on the Manzetoulon River and had a few elephant sightings, a group of five, as far south as the Munweni River. To Skukuza.
24-31. Visit western border. Road patrol - used grader on Skukuza Tshokwane road. Dr Broom of Pretoria Museum visited section. Ranger took him to Mamariwa mountain site where fossils had been found. He estimated fossils are at least 50 000 years old and were probably a collection of bones taken into a cave by an animal of some kind. The cave probably collapsed and the bones calsified.
There was evidence of game movement, but not much - sable antelope, wildebeest, and zebra to the east. Ranger ascribes little game movement to the long drought.
Section five
On the 13th Ranger inspected border guard. On his return to Satara at 12:15 am, he came across four elephant cows near the Nwganetsi River bridge on the Isweni-Satara road.
Ranger camped in Umbabale near boundary on the 24th , 25th and 26th.
Section six
On the 2nd field ranger Simon returned from Skukuza stating that both field rangers George and Solomon were sentenced to three months each for poaching.

Ranger was constructing new deviation road and patrolled Letaba loop road on the 15th. On the 20th ranger patrolled north road. Rain: 0.04 inches. During the night of the 22nd an elephant damaged rest camp fence.
On the 24th ranger repaired rest camp fence. Cleared trees from Olifants road. Elephant smashed road - danger sign near Olifants River.

On the 26th Ranger proceeded to Gravelotte to investigate damage caused to car at Rubbervale by lorry TP 19706 on 23/7/1941.

Cleared trees from road.
Section seven
On the 7th Ranger went to Upper Shingwedzi. The warden called in on his way to Punda Maria.
Section eight and nine
On the 1st ranger took border guards to Malonga Pan travelling across country. This pan or fountain is situated about 12 miles east of Klopperfontein. The first seven miles are very flat country. From there you strike narrow mopani belts and small pans.

All pans are dry. After crossing the mopani belts you get into sandy uninteresting country which continues to within a couple of hundred yards of the fountain rising from the foot of a hill.

A lot of buffalo, nyala and kudu are to be seen in this area with an odd sable, tsessebe, zebra and giraffe. The fountain is not too strong and seeps through a lot of mud for a distance of about 50 yards. Elephant are also drinking here.

On the 6th ranger patrolled to Pafuri River through the hills at back of Punda Maria and was very disappointed in number of game seen. Prisoners on road work. New road passes a strong fountain but little game seen drinking from it. Mr Orpen returned having finished the Punda Maria western border.

On the 7th members of the board arrived at Punda Maria. On Sunday the 10th Mr Ludorf and party arrived - Mr Ludorf had a general look round and said he was pleased with the section and number of game seen on it.

Went to Shingweddzi in the afternoon - saw three elephants on the way down and a good variety of lesser game.

Ranger patrolled to the Letaba River picket on the 11th and saw a few zebra, impala and kudu. Part of that area has been burnt out by fires started outside the park.

On the 12th ranger went to Pukwane, saw no game at all. A large area of grass burnt out. Fire started in Trust lands adjoining the park.

Ranger went to Malonga on the 14th and then on to Makuleke.

If brush is to be cut to fence the Makuleke location lands it will mean the cutting out of all bush in the near vicinity.

Ranger also went to rest camp and called at field ranger post. When patrolling to lower Bubupe on the 18th, ranger saw very little game - two lots of seven and one single sable, three lots of two, four and eight tsessebe, one lot of kudu, six troops of zebra.

Parts of that area were burnt out but a lot of grazing still remains.On a visit to Malonga on the 28th ranger saw few head of game.