Infographic Map of Flights to Kruger Park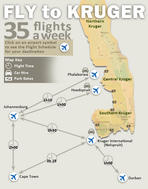 Here's a handy overview of how easy it is to fly to Kruger Park, showing the main departure centres and the three airports closest to the gates of the South and Central areas.
You also find out which airports best serve which rest camps in Kruger Park.
NOTE: Flight Reservation Service is only available in conjunction with your accommodation booking.
At the time you are completing your Accommodation Booking form, be sure to check the: "Need a Flight?" option.
Need to Hire a Car?
Let us know if you will want a rental car waiting for you at Kruger International, Hoedspruit or Phalaborwa.
Fly to Hoedspruit
Fly from Johannesburg to Hoedspruit if you are going to be visiting Orpen, Maroela, Talamati, Tamboti, Satara or Roodewaal Rest Camps.
Hoedspruit direct flights from and to Johannesburg and Cape Town in both directions once a day, 7 days a week
Fly to Phalaborwa
Fly from Johannesburg to Phalaborwa if you will be visiting Shimuwini, Boulders, Letaba, Olifants or Balule Rest Camps.
Fly to Skukuza
Skukuza Airport is the gateway to Sabi Sands and the Private Game Reserves bordering Kruger Park. Fly to Skukuza Airport if you are staying at Skukuza Rest Camp, Jock Safari Lodge, Tinga Lodge, Walking Safari at Plains Camp or going on a Sabi Sand luxury private safari
Skukuza - Direct flights from and to Johannesburg and Cape Town in both directions once a day, 7 days a week
Fly to Kruger Mpumalanga International Airport in Nelspruit
Nelspruit Kruger Mpumalanga - Direct flights from and to Johannesburg and Cape Town in both directions once a day, 7 days a week ; as well as direct flights from and to Durban King Shaka once a day 3 days a week on Mondays, Wednesdays and Fridays
These flights are best for travellers visiting camps in the south of Kruger Park. such as Berg en Dal, Biyamiti, Crocodile Bridge, Malelane, Lower Sabie, Skukuza, Jock Safari Lodge, Lukimbi Safari Lodge or Tinga Game Lodge
Enquire About Flights to Kruger Park
EnquireAbout Kruger Park flights