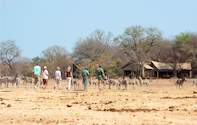 This adventure safari lodge in Kruger Park is built in true colonial tradition and accommodation is offered in African explorer-style tents. This is the home of the walking safari.
Enjoy the unsurpassed beauty of this African wilderness
Stay in comfortable explorer-style tents
Big Five sightings in their natural habitat
Have a memorable experience sleeping out under the stars
This adventure lodge in Kruger Park is built in true pioneer tradition, reflecting the ambience of a 19th century colonial retreat. Lodging at this safari lodge in Kruger Park is offered in one of 4 African explorer-style tents, with modern amenities. From the lodge swimming pool you can feast your eyes on the spectacular Timbitene plain, where game flock in abundance.
The adventure camp is set in the middle of Kruger National Park wilderness area and great care has been taken to ensure that the camp was built in a sustainable manner. The whole safari lodge is raised on stilts, no concrete was used at all, all structures are canvas, solar power generates the power requirements and no trees were cut down.
The ethos of the lodge is to allow guests to connect with nature while on guided walking safaris which are led by experienced guides. You may come across Zebra, Buffalo and Elephant. You may even be lucky enough to approach a Rhino on foot. The camp is also known for its sleep outs, where you travel to a raised platform and sleep in comfort out under the stars.
Child Policy
No children under the age of 12 years old are permitted to stay at Rhino Walking and at Sleep Out.