Lukimbi Safari Lodge, a family-friendly safari lodge in the Kruger National Park, offers magnificent game viewing, ultra-luxurious accommodation and thematic décor inspired by South Africa's rich and diverse cultures.
Why We Love it and You Will Too
Lukimbi is one of the best places to see Rhino in Kruger National Park
Superb location in Southern Kruger Park for excellent game viewing, game drives and bush walks
Watch elephants and wildlife congregate at the Lwakahle River right in front of the lodge
Children of all ages are welcome with special children's activities and playroom
Romantic destination for couples, spa massages and a wedding chapel on-site
Your Lukimbi Safari Lodge Experience
Lukimbi Safari Lodge is situated in the southern region of Kruger National Park on a 15 000 hectare exclusive use concession, making this the ideal place for prime game viewing in the wilderness. Game drives are conducted by expert safari guides and full day bush walks are offered for guests wanting a more active safari experience.
The central reception area of Lukimbi Safari Lodge provides breath taking views over the pristine bush, looking across the seasonal riverbed towards an open plain. With the building of the lodge, the idea was to bring as much of the outside to the inside as possible, so covered open decks flow naturally into the immaculately decorated main areas. Around every corner you will be surprised and delighted by the combination of culturally inspired décor and vast open spaces, a constant reminder that you are now in Africa!
Meals at this child friendly accommodation are always a special event - enjoy a breakfast in the heart of the bush, eat your fill at the most amazing and delectable lunch spread and indulge in quiet time with an intimate dinner in the wine cellar. To make your stay even more perfect, a full beauty treatment including reflexology and aromatherapy at the health spa will ensure complete relaxation.
With a fully equipped conference centre for up to 40 delegates, Lukimbi Safari Lodge is the ideal option to combine business with pure pleasure in Kruger National Park.
Children on Safari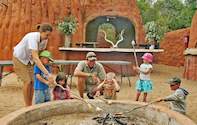 Lukimbi Safari Lodge is one of only a few safari lodges in Kruger National Park welcoming children from age 2, with a children's program including kiddies walks, crafts, treasure hunts, special kiddies dinners and picnics - perfect for any family with mom and dad relaxing whilst children are entertained. Babysitting services are also available.