Jousting impala rams in Kruger. G Cooke
During the breeding season in late April and early May, male impalas make a series of grunting sounds and may even roar. Male impala also demonstrate an unusual behaviour during the rut known as tongue flashing, the repeated sticking out of the tongue, to ward off potential rivals and attract females.
About the South East
Crocodile Bridge Gate
Crocodile Bridge to Lower Sabie
Crocodile Bridge to Malelane
Crocodile Bridge to Skukuza
Lower Sabie Nhlowa Road
Lower Sabie to Skukuza
Lower Sabie to Tshokwane
The Biyamiti Area
See a map of
South East Kruger Park

In the Biyamiti area look out for:Animals
White rhino
Duiker
Giraffe
Buffalo
Hyaena
Birds
Violet-backed starling (in summer)
Green wood-hoopoe
Swainson's spurfowl
Woodland kingfisher (in summer)
Jacobin cuckoo (in summer)
Biyamiti Road (S139)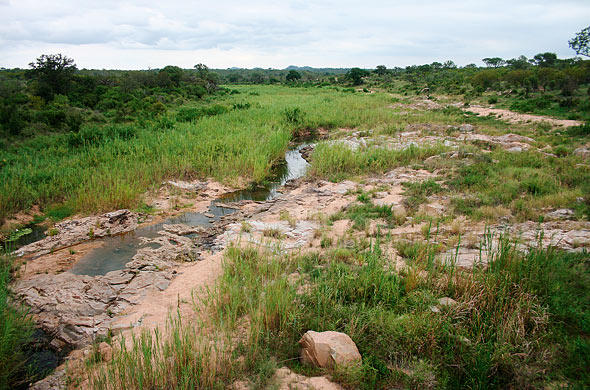 One of Biyamiti's main drawcards is the road leading to the camp - the S139 - which follows the river through the mixed woodland. Only residents are allowed on this drive that dips over a number of watercourses that run into the Biyamiti.
There are wonderful trees along the route - leadwoods, marulas and weeping boer-beans, which often grow on top of termite mounds. There is a white-headed vulture nest near Blinkwater lookout point, which offers a good view of the Biyamiti, a few kilometres upstream of the camp.
The area around the Biyamiti Water Hole windmill is usually the centre of a lot of birding and animal activity. There are often elephant and buffalo on the banks of the Biyamiti.

The Biyamiti is a seasonal river and is, therefore, usually dry, but that does not diminish the prolific birdlife. Biyamiti area is a good year-round birding spot, but it really comes alive in summer. Biyamiti is renowned for its cuckoos, which are very active along the watercourse in late summer before departing for their African or European breeding grounds in March.