Elephant Interaction on the banks of Sabie River in Hazyview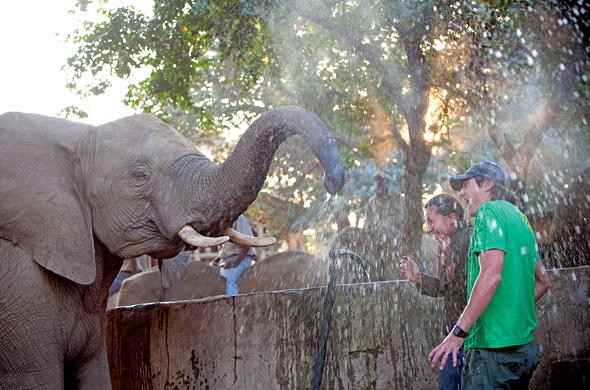 A visit to this Elephant Sanctuary on the banks of the Sabie River in Hazyview will take you on an unforgettable journey. Here you will have an opportunity to to interact with these gentle creatures and hear their heartfelt stories.
Look forward to an experience of a lifetime - you will be able to interact with these majestic elephants up close with a range of fun activities ideal for the whole family. Feel their rough skin, exchange trunk greetings and offer tasty treats while learning their history from the elephant handlers. Elephant Whispers and Elephants for Africa Forever are organizations that support the conservation of the African elephant with an unparalleled level of professionalism. Their lifelong commitment and passion ensure that these orphaned elephants are healthy, happy, content and safe and secure in their environment.
Elephant Interaction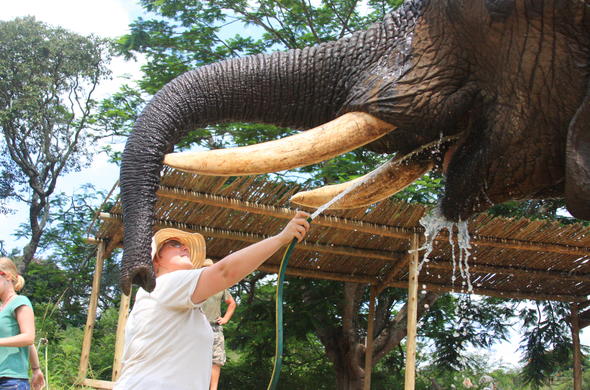 You'll meet Lindiwe - the youngest one, Shamwari- the shy yet playful one, and let's not forget the rest of the herd. The hands-on interaction allows you to get up and close with these gentle giants; and while their handlers tell you fascinating stories and facts about them, you have a chance to stroke their rough skin and feed them a delicious treat. Your visit to the sanctuary will contribute to the role these six wildlife ambassadors play in protecting their own kind.
Duration:
1 hour
Interaction & Elephant Ride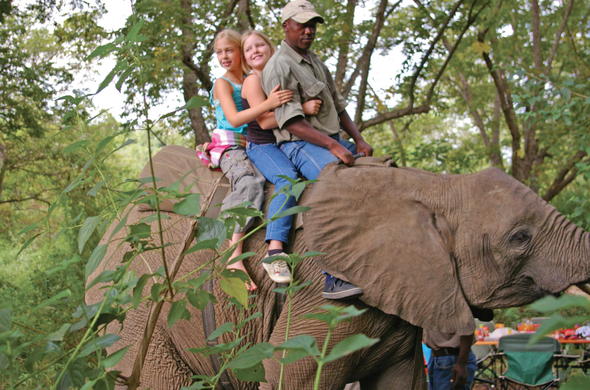 Ever wondered how it would feel to feed and touch Africa's gentle giants? Then why not spend a morning in the company of the mighty Tembo, troop leader and elephant ambassador. The fully trained handles will be close by as you get to know him and his herd as you learn about their behavior and life stories. Afterwards you'll venture into the bush on an elephant safari ride and spectacular views of the bush; or if you want walk along them. This is truly an unforgettable experience.
Duration:
1½ hours
Interaction & Elephant Ride with lunch at Hippo Hollow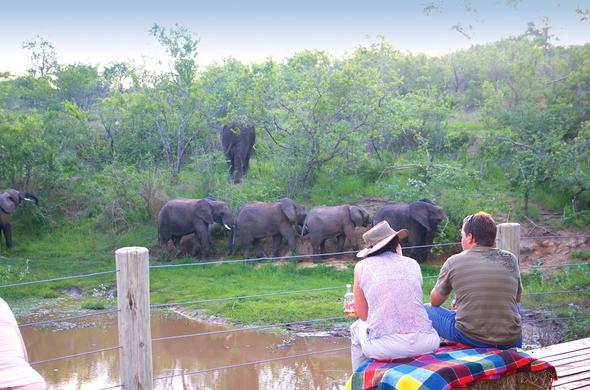 After your interaction with the elephants, a trained handler will help you saddle up for your elephant safari ride into the bush where spectacular views await. On return tuck into a tasty 3 course lunch at the Hippo Hollow Estate.
Duration:
1½ hours followed by lunch
Early Morning Brush Down Interaction & Elephant Ride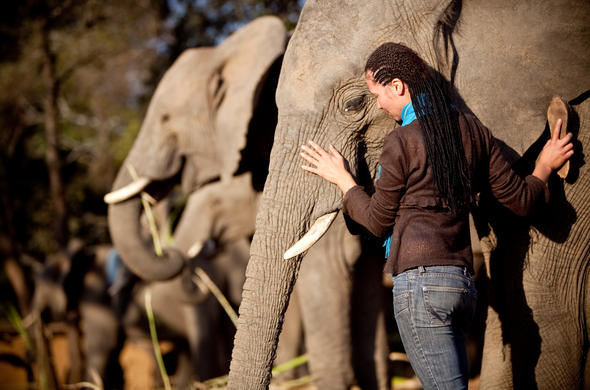 Wake up early to meet the handlers help wake up the giants and assist them prepare the herd for their daily activities. Get up and close with the majestic gentle souls; the brush and stroke activity is a truly magical experience. Then watch as they venture into the bush for breakfast. End your morning with refreshments and treats while overlooking the Sabie.
Duration:
1¾ hours
Sunset Interaction, Elephant Ride & Sundowner
Arrive for your late afternoon excursion; And while the handlers prepare your safari walk, why not stroke and interact with these magical creatures. Enjoy a spectacular African bush sunset on the back of one of the elephants; or take a leisurely stroll alongside them. As you return to camp, a delicious treat awaits your new friend. Bid the elephants farewell and round off your evening with sundowners on the deck.
Duration:
1¾ hours
Ultimate Elephant Experience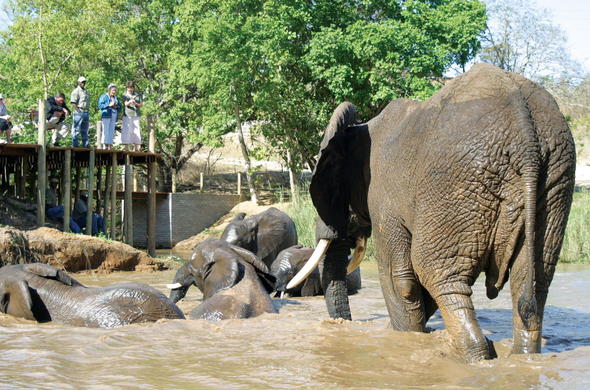 Experience a warmth of your host elephant as he hugs you with his trunk and welcomes you into his home. While you interact with these majestic and gentle beauties, a qualified handler will be nearby to tell you about their unique personalities and behavior. Afterwards saddle up and wander into the African bush on the back of these mammals. Enjoy breathtaking views from a different perspective. Later be treated to a scrumptious picnic and sparkling wine while watching the elephants parade downstream to splash in a mud bath.Don't forget to bring your camera along to capture these magical moments.
Duration:
2 hours
Children and the Gentle Ellies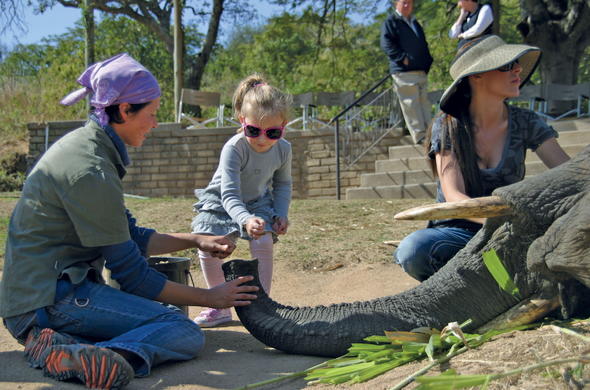 Children of all ages are welcome but have to be under adult supervision at all times. Your little ones can feed, greet and walk hand-in truck with the gentle giants. The elephants feel comfortable around children and often feel a familial kinship with the young ones.