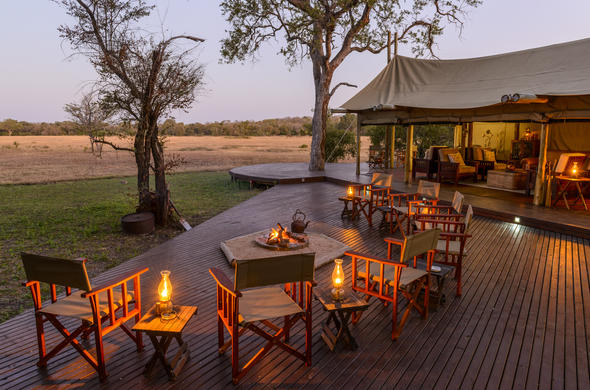 Review by Carrie Hampton
Inside the
Rhino Walking Safaris private concession
within South Africa's Kruger National Park, is the lovely traditional Plains Camp. Plains Camp, (along with its sister safari camps; Rhino Post Camp and Platforms), offers some of the best value for quality inside Kruger Park.

Not A Soft Safari... But take note, this is not a 'soft safari' where you sit in the vehicle on game drives for hours, Rhino Walking Safaris specialise in taking their guests on game walks, where any of the Big Five could be around the corner! The
guides are excellent
so there is no need to worry. Read on to find out why Carrie Hampton thinks Plains Camp is so special.Walking in African big game country sounds far more fearsome than it actually is. After a while you forget that you could bump into an elephant or lion for that matter, until your guide signals for you to keep quiet and stay put. This is when you remember that this is not just any old walk in the park - this is
Kruger National Park
, one of the foremost wildlife reserves in the world.Plains Camp is perfect for safari traditionalists, who want the pioneering feeling of an old-style African safari, which includes
bush walking in African Big 5 territory
. Plains Camp suits the 'Out of Africa' theme, right down to white linen, leather sofas, pith helmet, ancient gramophone and canvas chairs overlooking grass plains.
African Savannah
Plains Camp has the essence of an East African safari, but it is actually inside South Africa's Kruger National Park,. This is unusual as Kruger National Park isn't known for the vast savannah you find in Kenya or Tanzania. But Plains Camp is lucky to have exclusive views of wide grasslands, spreading fortuitously in front of the main safari camp and each one of its very
comfortable luxury safari tents
.Beasts wander at will and you might see
Elephant, Zebra, Wildebeest
, Warthog and there is nothing stopping Lion trooping by either. There is a nominal electric fence around the camp to keep out unwanted guests, but this does not detract from the wild feeling of having Kruger National Park at your doorstep. There is even a little pool set in a wooden deck with the same pleasing outlook as the whole safari camp.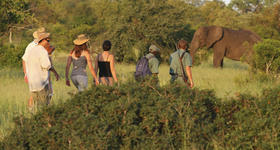 Plains Camp is
essentially a walking safari camp
, where the emphasis is on getting the earth beneath your feet and seeing what is around the next corner. You don't see as much as in a vehicle, but proximity to African animals on their own terms is exciting and the anticipation is thrilling. Plains Camp safari guides proved to be extremely capable and instilled great confidence in the novice safari walkers. This had little to do with the fact that they were carrying guns and more to do with their expert bush knowledge and obvious skills.
Value for Money
Great care and
attention to detail
is what marks Plains Camp; from a cabinet full of bygone safari artefacts to the soft pillows and white linen on your oh-so-comfortable bed. The food is great too and even the morning muesli and yoghurt looks enticing served drizzled with honey in a champagne glass.Plains Camp offers
very good value for money
for an all-inclusive private safari inside the renowned Kruger National Park. This opinion is based on my personal visits to over 100 safari camps and lodges in Southern & East Africa! Rhino Walking Safaris operate Plains Camp, but also have Rhino Post Camp (for safari game drives and bush walks) and Platforms Camp (where you sleep out on
individual treetop wooden terraces
under a flyscreen). Read about all of these safari accommodation options and I suggest you stay a couple of nights at each for a very satisfying safari experiencing the private side of Kruger National Park.
© Carrie Hampton 2004. This article is written by travel writer and safari specialist Carrie Hampton, who is under no obligation to state anything other than her personal opinion. This article may not be reproduced in any form without permission.
Stay at Plains Camp
Contact Carrie on:
carrieh@iafrica.com