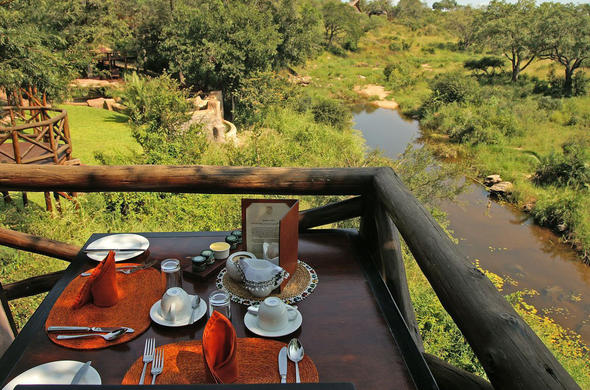 In the deep south of Kruger National Park in Mpumalanga is Lukimbi Safari Lodge - a place dominated by African art and legend.
By Carrie Hampton
Share Legendary Tales

The lodge is named after a mythological creature that is half owl and half lion and is said to protect all travellers in the African bush against danger. The full story of this legendary creature is told to guests soon after arriving at Lukimbi.
Superb Service

The staff of Lukimbi have a direct interest in the success of this safari lodge, since they own a stake in it. This, of course, means that they want each guest to have the finest experience so that they will tell all their friends. So far this approach is working and Lukimibi is thriving.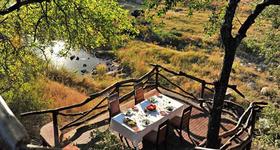 Enjoy professionally prepared cuisine while enjoying game viewing from the comfort of the lodge and its bush surrounds.
One thing people certainly talk about is the food, prepared by the characterful head chef, Leonardo Bürckard. His creations require the highest skill and the subtlest of ingredients.
Culinary Delights

He is seen here with one of his signature dishes, Kingklip Sasekane - fish dusted in almond flour, dipped in beaten quail eggs, pan-fried golden brown, and topped with steamed lobster dribbled with creamy chardonnay and a caper dressing infused with saffron. If that does not make your mouth water, nothing will!
African Design

At Lukimbi, art does not only come in the form of food. The bold colours and shapes found in African artworks appear everywhere, including the sculpted wood of both functional and decorative objects, textured fabrics with geometric designs and patterns cleverly etched into the plasterwork.
Destination Wedding

Even the chapel has been given simple yet effective artistic adornments, adding to the romance and fairy-tale quality of a bush wedding. And once you have said your vows, go no further for the honeymoon, as newlyweds are taken to a mystery venue for a private honeymoon dinner.
Visit Lukimbi Safari Lodge.