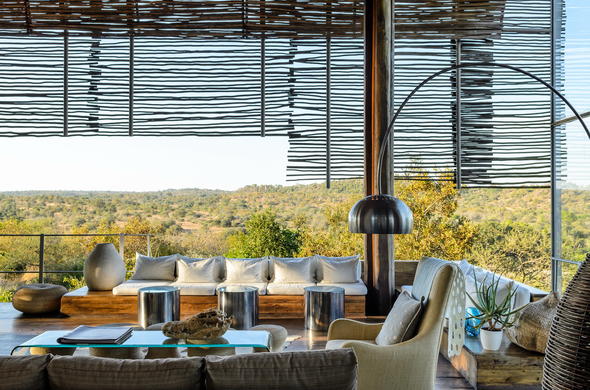 Review by Carrie Hampton
'Touch The Earth Lightly' is Singita's motto, and Singita has adhered to this in the most innovative way when building Singita Lebombo and Singita Sweni safari lodges, in the
heart of South Africa's Kruger National Park
. I have visited visited over one hundred safari lodges, but I have never stayed in one quite like Singita Lebombo. Read on to find out why...

Perched on a sort of scaffold frame on a boulder-strewn hillside deep in Kruger National Park, is the
amazing Singita Lebombo Safari Lodge
. Great white canvases billow in the breeze that flutters through the open plan lounge and bar of Singita Lebombo, whose overriding light and airy colours are white, straw, lime green and grey. It is
like existing inside a magazine photo shoot
, whose cool trendy appearance would work well beside a palm beach or even in a sun-blessed city, but here is Singita Lebombo looking perfectly at ease in the heart of the African bush.
Combination of Style & Safari
Singita Lebombo
offers a style experience
as well as a Kruger Park safari, par excellence - and the two make an exquisite combination. The 15 suites, or lofts as they like to call them, are at various levels on the slopes of the river gorge, and perch almost on tip toes so as to minimise impact on the land. Spiky cactus-like Lebombo Euphorbia are a signature feature of the hilly landscape and together with the creamy rock formations, give the region a somewhat tropical feel, yet at the same time a very wild African appeal. These contrasts, both in environment and architecture, combine to make Singita Lebombo Safari Lodge absolutely unique.Wooden
walkways graduate gentle down the hillside
to the individual lofts, which house a multitude of creative design features. The lampshade is a cascade of gurgling glass shapes which mirror the small rapids in the river below. The backdrop of the bed is a waterfall of grey and white seeds, strung up and dangling in a simple, yet effective curtain. Surrounding the entire bed is a grey walk-in mosquito net tied neatly to a square frame that dictates order amongst frivolity.
Recreate the Singita Lebombo Look
A curtain, which you may choose to draw in order divide the lounge from the bedroom, is held back with a beaded safety pin tie back, which you instantly want for your own home. This and many other items from your room, are for sale
at The Village
- Singita's version of a shop, which of course is far from anything ordinary.The Village & Spa is located just minutes away from both Singita Lebombo and Singita Sweni lodges. it is a browsing experience to please all your shopping senses, while the Spa takes care of the other senses. Alcoves display stylish (and not always expensive)
jewellery, African artefacts, art and sculptures
, plus a range of crafts and clothes. There is also a little wine bar and coffee lounge to encourage you not to rush.

Rushing is the antithesis of Singita style and you decide when you want lunch, when to go game driving and for how long (although our ranger got carried away by his own enthusiasm at times). But that is understandable, as the traversing area used by the
Singita Lebombo rangers
is wonderfully varied, with rocky ridges, woodlands opening to grass patches and river valleys, and a plateau reaching eastwards to the Mozambique border.A lookout point is selected for the nightly sundowner drink stop, where you can admire the
vastness of Kruger National Park
as it stretches out before you. After drinks, the game drive continues under spotlight, and you may be lucky enough to see the enormous pride of 20 or more lions, that claim this area as their own.
Caters for the active
I have barely mentioned Singita Lebombo's main lodge area, which includes a large swimming pool with a long narrow extension for swimming lengths. Exercise is always a problem while on safari, as running in the bush is not encouraged! Jogging is possible however,
in the Spa
, which has a fully equipped gym, for those that cannot stand inactivity.

Personally, I preferred to
sit on my terrace and laze around
on the outdoor mattress, on which you can sleep on balmy nights, covered in a specially erected mosquito net. Only rousing myself for mealtimes, of which lunch turned out to be the best, with a small, but enticing menu where you could choose such simple things as a salad or open sandwich. This was a nice change from the more filling lunches most commonly found at safari lodges, which are often the cause of excess weight at the end of your safari vacation.

The
superb wine list
and excellent quality of the ingredients, including the intention to source fruit and vegetables only from organic suppliers, was somewhat overshadowed by the evening meals being uncomfortably over spiced. I suspect things might have changed on that score, as Singita takes any adverse comment very seriously.Singita Lebombo is naturally at the highest end of the price range for safari lodges in the area of Kruger National Park, but I have no hesitation in suggesting you stay at Singita Lebombo. If you have an inkling of interest in
interior design you will love it,
and if you haven't then you soon will!
Fly in by Federal Air

The easiest way to
access Singita Lebombo
(and Singita Sweni) safari lodges, is to fly direct from Johannesburg International Airport to the Satara airstrip inside Kruger National Park, on a charter flight with Federal Air. Then it is only a half hour drive to the lodge. Federal Air have their own hanger and large
private reception area at Johannesburg Airport
, and a courtesy car transports you the main terminals to connect with your onward flights. The aircraft was certainly one of the most comfortable charter aircraft I have travelled in, and turned a day's journey by car into a quick and easy 1 hour flight.
© Carrie Hampton 2004. This article is written by travel writer and safari specialist Carrie Hampton, who is under no obligation to state anything other than her personal opinion. This article may not be reproduced in any form without permission.
Visit Singita Lebombo
Singita Lebombo is known for its ability to provide exclusivity and privacy, and exactly the right amount of romance for a honeymoon in Africa...
more