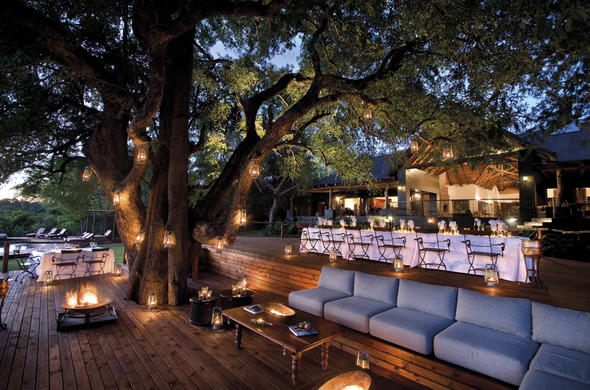 Review by Carrie Hampton
A Lodge Made of Legends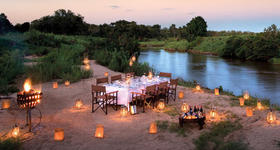 Legends Lodge (and its sister Narina Lodge just across the river within the
Tinga concession of Kruger National Park
), allows the world to come to you, even in the heart of the African bush. Satellite TV and isdn internet line satisfy the businessman who needs to keep in touch, while your own sun drenched heated plunge pool and river-view balcony promote necessary relaxation.Comfy lounge, air conditioning, underfloor heating, heated towel rails and a double shower with jets coming from all angles, complete the comforts you didn't know you needed until you had them. The end of 2004 will also see a
Spa and Wellness Centre
. They seem to have thought of everything and then doubled it!
Interesting Design Mix
Legends Lodge has an
eclectic design mix of Afro
colonial and classic gentleman's club, with mounted antelope horns, Persian rugs and fine African antiquities. Dark leather sofas contrast with the light wicker terrace chairs and brown chandeliers hang from a high beamed ceiling holding up a pale new thatch. The whole effect is grand and sumptuous yet somehow understated.The more I looked around to search for the right words to describe this unusual safari lodge in the hubb of Kruger National Park, the more gentlemanly it appeared. After some questioning it turned out that the consortium of owners are all male and had a significant input on the style of the place. It was also revealed that the interior designer (a woman), was unable to finish the commission and another female designer completed the job. This explains
the mix of styles
that I found so hard to pinpoint - that nevertheless for all its contrasts, works wonderfully and to great effect.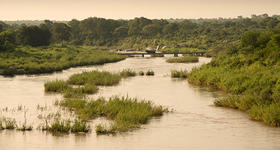 Every part of Legends Lodge has
dedicated design features
, such as a beautiful dry stone wall around the outdoor dining boma, and rendered walls around the lodge incorporating African swirls into the plasterwork. There is plenty to marvel at Legends Lodge, with a massive wooden dining deck and a quite enormous swimming pool - both with a view of Kruger National Park's Sabi River.Safari game drives traverse Tinga's own private concession, with access to the rest of Kruger National Park as well. The terrain is varied and fording rivers can be fun (and nigh on impossible in the rainy season). Kruger National Park is famous for having Africa's Big 5,
Elephant, Rhino, Leopard, Lion and Buffalo
, as well as many other African animals and hundreds of different bird species. The ever-present Lilac Breasted Roller may well become a favourite, as it flashes electric blue underwings every time it flits from one branch to another.
6 Star Luxury
The Tinga Private Game Lodges of Legends and Narina, both have nine luxury suites of a 6 Star standard, and an all inclusive price that reflects this high level of comfort and facilities. The
food is exquisite
, the wine cellar impressive and the service irreproachable. Honeymooners would be ecstatic to stay here, as would any guest who comes to Kruger National Park for a private guided safari.
© Carrie Hampton 2004. This article is written by travel writer and safari specialist Carrie Hampton, who is under no obligation to state anything other than her personal opinion. This article may not be reproduced in any form without permission.
Stay at Tinga Lodge
If perchance you happen to be thinking of a honeymoon in South Africa, then Tinga Lodge won't disappoint. A honeymoon safari...
more