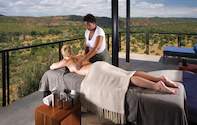 Ideally situated in the remote and exclusive northern Makuleke Region in the world famous Kruger National Park, South Africa.
This unique South African safari lodge is situated in the Makuleke Region in the northernmost part of Kruger National Park, resting high on a hill overlooking the flood plains of the Limpopo and Luvuvhu rivers. This region, formerly known as the Pafuri region, is in the northernmost part of Kruger National Park, South Africa, its bordered to the north by the Limpopo and Zimbabwe and to the East by Crooks Corner and Zimbabwe.
Directions
Via Polokwane(Pietersburg ) and Louis Trichardt (Makhado)
Follow the N1 north towards Musina
pass through the Baobab Toll Plaza
Take the R525 turnoff to Tshipise and Pufuri
Pass Tshipise on the right and through the Masisi boom after 111km(69 miles)
Travel a further 23km (14 miles) and enter the Kruger National Park
Continue for another 6.6 km(4 miles) until you see the sign for the lodge
Follow the dirt road for another 4km(2.5miles) to the lodge
From the Kruger National Park (380km from Skukuza)
From Skukuza travel northwards to Letaba and onwards to Shingwedzi Drive towards the Pufuri Gate Cross the Luvuvhu River and drive for 18km (11 miles) At the sign on the right hand side of the road turn left Travel a further 4km (2.5miles) on a dirt road before reaching the camp
Flights
Private Charter flights are available from Johannesburg O.R. Tambo International Airport to a private airstrip near the lodge. This flight takes approximately 90 minutes.
GPS Co-Ordinates
-22.4406 S
31.0837 E