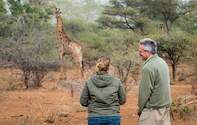 Experience a massage in the privacy of your suite boasting spectacular views of the Kruger Park bushveld.
Abundant wildlife can be seen on game drives which are not restricted to public roads in Kruger National Park and mostly make use of tracks formerly reserved for the use of Park officials. The lodge sits in a private concession in the Kruger National Park which measures some 28 000 hectares. It is well known for its wildlife including less common species not evident in the southern and central regions of the park.
Apart from large herds of Elephant and Buffalo, guests will be able to see Nyala and Tsessebe Antelope on their Kruger Park safari. The diverse terrain of the region includes Mopane woodlands, Fever tree forests, Acacia thickets as well as some of the largest and oldest Baobab specimens.
Guests are offered a choice of long/short game drive in the morning and again in the mid afternoon, on their Kruger Park safari. Game drives will be conducted by qualified and experienced guides in open-air four wheel drive vehicles.
Go hiking and birding on a bush walk in the early mornings and late afternoons on your Kruger Park safari. Walks will be conducted in parts of the region not accessible to vehicles including the spectacular Lanner Gorge.
The Makuleke Region is renowned for its birding and guests may be able to see Scarlett chested sunbirds, Broadbilled rollers, Redheaded weavers, Wattle-eyed flycatchers and Owls such as the Pel's Fishing Owl, the Scops, Whitefaced, Pearl-Spotted and Giant Eagle Owl.
The region's rich historical and cultural heritage can be explored by guided visits to Crooks Corner and the Thulamela archaeological site overlooking the Luvuvhu River. Artefacts dating from 1460 to 1640 have been found tying them to the last phase of the Zimbabwe culture. A visit to Thulamela is a half day excursion.
Guests also have the opportunity of visiting a Makuleke Village and learning about the history of the Makuleke people under the guidance of a Makuleke guide. This visit to the Makuleke Village is a full day's excursion.