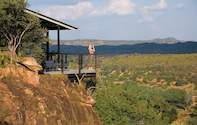 The Outpost Lodge is set in the remote northern part of Kruger National Park. Resting high on a hill encompassed by stunning vistas of the Limpopo and Luvuvhu Rivers. As far away as you can get from the crowds.
Why We Love it and You Will Too
Luxurious Tranquility - Unwind in your private outdoor bathtub, taking in the panoramic views from your expansive deck
Exclusive Safari Adventures - Traverse through vast landscapes in open 4x4 vehicles, tracking the iconic Big Five wildlife
Elevated Dining Experience - Enjoy delectable meals overlooking the Luvuvhu River and watch as animals come to quench their thirst
Beyond Wildlife Encounters - The Outpost offers insights into local culture and history through interactions with the local Tsonga communities
Untamed Wilderness - Located in the remote northernmost corner of the Kruger National Park far away from the crowds
Your Outpost Lodge Experience
This unique lodge is situated in a remote part of Kruger National Park, in a wilderness area previously inaccessible to visitors. The Outpost Lodge is the result of a unique cooperation between private investors and the local community and is the first lodge built in this vast region.
Designed by an Italian-born architect, Enrico Daffonchio using simple, clean lines and combining elements of steel and canvas, the stunning contemporary design of this luxury northern Kruger Park lodge emphasizes its beautiful surroundings but blends in with the wilderness that is its home.
The Makuleke concession falls in the epicentre of the Great Limpopo Park, which comprises Kruger National Park, the Gaza National Park in Mozambique and the Gonarezhou National Park in Zimbabwe meaning that this luxury Kruger Park lodge is in an ideal location.
This visionary park has become a reality and guests are able to visit the Mozambican and Zimbabwean parts of the Peace Park without requiring visas and without having to exit the Peace Park.
Child Policy
Children over the age of 10 are welcome at The Outpost Lodge.
Outpost Facilities
In-room spa treatments
Swimming pool
Restaurant
Bar
Wi-Fi
Outdoor fireplace