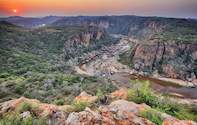 The unfenced Pafuri Camp is situated in the far northern reaches of Kruger in a private concession on the banks of the Luvuvhu River and gives guest a unique wildlife experience.
Situated between the Limpopo and the Luvuvhu Rivers in the northern sector of Kruger National Park is an area of 24,000 hectares called the Pafuri or the Makuleke. This area is the ancestral home of the Makuleke people and is the most diverse and scenically attractive area in all of Kruger National Park.
This area is certainly the wildest and most remote part of Kruger National Park and offers varied vegetation, great wildlife viewing, the best birding in all of Kruger. The region is filled with folklore of the early explorers and ancient civilisations.
The camp can be reached from the Punda Maria Gate of the Kruger National Park in about 1 hour 30 minutes. From Pafuri Gate the journey takes 45 minutes. Guests have to be in camp by the Kruger gate closing times and no vehicles are allowed on the road between gate closing times.
Air and Road Transfers
Daily road transfers from Johannesburg to Pafuri Camp can be arranged, as well as transfers from Polokwane and Phalaborwa Airport.
Charter
Pafuri Airstrip enjoyed weekly flights on Mondays and Fridays, and charter flights can be arranged.
Self-Drive
Pafuri Camp is 640 km/ 7 hour drive from Johannesburg.
N1 North to Louis Trichardt (Makhado)
Continue on the N1 over Soutpansberg and turn right onto the R525 towards Tshipise
Continue past Tshipise to Pafuri Gate
DETOUR: take the detour to the left of the road just before the bridge has been washed away
Look out of Pafuri Camp signage on the left of the road
GPS Coordinates
22℃25'15.81"S 31℃13'45.81"E