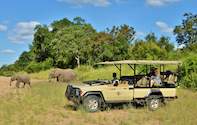 This safari lodge offers exciting safari activities which include intrepid game drives in open 4×4 vehicles and bush walks. Embrace the adventure!
In the mornings head out on an informative guided game drive in the private concession of the Kruger in search of wildlife such as herds of Elephants, Zebra and Wildebeest or perhaps you will come across a Lion pride. Perhaps the game drive will break off in a picturesque spot in the bush for breakfast.
There are two game drives every day. In summer, morning drives depart at 05:30 and evening drives depart at 17:30 on a Kruger National Park safari. In winter morning drives depart at 06:00 and evening drives depart at 16:00. The morning game drive lasts about 3 hours. Evening game drives last about 4 hours with a stop for sundowners before viewing nocturnal animals.
In the afternoon the loungers are the perfect spot to kick back and relax after cooling off in the swimming pool or having a soak in the private Jacuzzi on the deck of your suite. In the late afternoon there will be a high tea followed by an afternoon game drive.