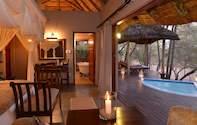 Imbali Safari Lodge offers elegant lodging in Kruger National Park. The suites have spacious decks with salas and private Jacuzzis or plunge pools.
This romantic safari lodge offers indulgent accommodation in the Kruger National Park. Stay in one of 12 luxurious suites which are furnished with king-sized or twin beds. They are beautifully appointed with only the finest furniture and imported linen.
The suites at Imbali Safari Lodge have spacious en-suite bathrooms which have romantic antique style baths situated near floor to ceiling picture windows which have lovely views of the riverine bush.
Each suite at this lodging in the Kruger National Park has a private deck with a Jacuzzi or plunge pool, which overlook the Nwaswitswonto River. They have a sala and comfortable loungers which are the perfect place for an afternoon nap after cooling off in the Jacuzzi or plunge pool.
Magnificent cuisine is freshly prepared to your satisfaction by the chef. Enjoy elegant dinners served by butlers. The menu is extensive and draws on both local and international flavours. Flickering hurricane lamps, fine mosquito netting and exceptional service will ensure you never forget your first taste of the African Safari experience.